RELEASE DATE: 8/29/04
FOR IMMEDIATE RELEASE: FRESHMEN LEAD MANSFIELD TO 2-0 WIN IN WOMEN'S SOCCER SEASON OPENER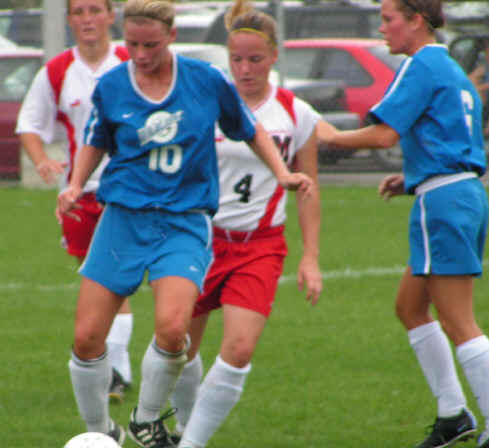 MANSFIELD – Freshmen Anita Valerio Manalapan,NJ/Manalapan) and Colleen Corcoran (Allentown/Central Catholic) each scored a goal in their first ever collegiate contest to lead Mansfield University to a 2-0 win over Daemen College to open the 2004 women's soccer season.
"I think we played well as a team for our first game of the year," said head coach Tim Dempsey. "I was especially please with the way our freshman handled themselves in their very first collegiate game."
After a scoreless first half, the Mountaineers got on the board in the 59th minute when Anita Valerio scored on a header off a corner kick by Megan Colbey (Lancaster/Conestoga Valley). Mansfield scored the game's other goal eight minutes later when Colleen Corcoran found the back of the net on a breakaway at the 67:15 mark.
Nicole Rodweller (Easton/Easton) had seven saves to record the shutout.
The Mountaineers travel to Juniata College on Sept. 1.