RELEASE DATE: 2/20/10
FOR IMMEDIATE RELEASE: Mansfield women stun West Chester 66-61
Box Score
Watch Game Highlights on Youtube: http://www.youtube.com/watch?v=fFiXsyr4ntA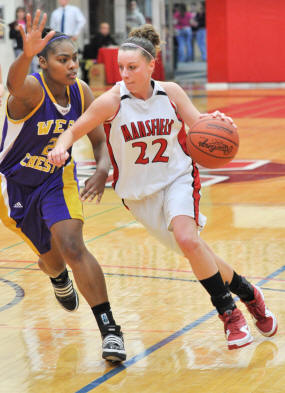 MANSFIELD Ė It was Senior Day and Mallory Hafer, Mansfield's only senior this season was honored in pre-game ceremonies, but it was younger sister Meredith Haferís 18 points that helped lead Mansfield to a stunning 66-61 upset over West Chester in a PSAC East contest Saturday afternoon at Decker Gymnasium.
Mansfield shot a staggering 71.4% from the floor in the first half including 75% (6-8) of its 3-pointers to take a slim 38-36 advantage into half. Meredith Hafer scored 14 of her 18 points in the first half with a perfect shooting performance hitting 4-4 from the floor Ė all of them 3-pointers and going 2-2 from the free throw line.
The second half featured four ties and six lead changes before Mansfield trailed 57-53 on a lay-up by West Chesterís Renata Neal with 6:30 to play. But Mansfield edged back taking a 60-59 lead on a jumper by Mallory Moore three minutes later.
West Chester scored just two points over the final 4:42 of the game while Mansfield went on a 10-2 run over that span to pull out the win.
With Mansfield holding a 62-61 lead, Mallory Hafer and Tegan Atallah combined to hit four free throws over the last 14 seconds to preserve the win.
Meredith Haferís career-best 18 point effort led four Mountaineers in double-figures with Mallory Moore scoring 14 points and Nicole Pender 13 points. Mallory Hafer added 11 points along with four assists.
Renata Neal topped West Chester with a game-high 23 points with Megan Stewart chipping in with 10 points.
The win snaps a six-game losing skid and marks the Mountaineers first win over West Chester since an 84-74 win at Decker Gymnasium in 2007.
Mansfield host Bloomsburg this Wednesday night in the final regular season home game of the season.