RELEASE DATE: 2/06/10
FOR IMMEDIATE RELEASE: Shippensburg women down Mounties 73-53
Box Score

game highlights on youtube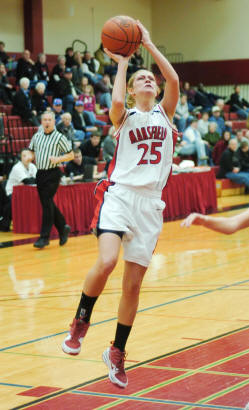 MANSFIELD – Nicole Pender scored 18 points but it wouldn't be enough to overcome a combined 49 point effort from Shippensburg's Kasey Gardner and Lauren Beckley as Mansfield dropped a 73-53 PSAC East game to Shippensburg Saturday afternoon in Decker Gymnasium.
Shippensburg used the long-ball early hitting six 3-pointers in the first half on their way to a 42-22 halftime lead.
Mansfield managed to pull to 63-47 on a 3-pointer by Mallory Moore with 7:33 to play but could pull no closer.
Shippensburg had 10 3-pointers to Mansfield's four and held a 45-32 rebounding advantage.
In addition to Pender's 18 point performance, Mallory Hafer scored 12 points on four 3-pointers while Moore added 10 points and nine rebounds.
Gardner and Beckley posted double-doubles with Gardner scoring 28 points and pulling down 10 rebounds. Beckley added 21 points and 12 rebounds.
Mansfield falls to 4-16 overall and 1-7 in PSAC East play.
The Mountaineers travel to Kutztown on Wednesday.