RELEASE DATE: 1/13/10
FOR IMMEDIATE RELEASE: Big second half leads Shippensburg to 62-39 win over Mansfield in PSAC East opener
SHIPPENSBURG – Mallory Moore and Mallory Hafer combined for 24 points but the Mountaineers couldn't overcome a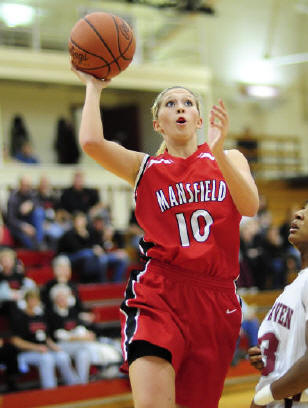 big second-half for Shippensburg in a 62-39 loss Wednesday night at Heiges Field House in the PSAC East opener for both teams.
Mansfield led for much of the first half starting with a Mallory Hafer 3-pointer 15 seconds into the game. The Mountaineers increased their lead to 15-8 on a pair of free throws by Sydnee Reeves nine minutes into the game and continued to lead until Lauren Beckley gave Shippensburg a 19-17 lead with just under five minutes to play before halftime.
Shippensburg held a 26-20 halftime advantage but Mansfield cut the lead to 26-23 on a layup by Malory Hafer less than a minute into the second half. The game remain close until Shippensburg took a double-digit lead midway through the second half and then outscored Mansfield 15-6 over the final 10 minutes of the game.
Moore led Mansfield in scoring with 13 points and just missed a double-double with nine rebounds. Mallory Hafer scored 11 points while Nicole Pender added eight.
Shippensburg's Lauren Beckley became just the fifth player in PSAC history to record 2,000 points and 1,000 rebounds posting a game-high 21 points and pulling down 11 rebounds. Kasey Gardner added 14 points and 9 rebounds.
Mansfield falls to 3-10 overall and 0-1 in PSAC East play. The Mountaineers host Cheyney this Saturday afternoon starting at 1 p.m. in Decker Gymnasium.