RELEASE DATE: 11/17/09
FOR IMMEDIATE RELEASE: Mansfield women open 2009-10 season this weekend in Boston – Mansfield takes on Fisher and University of Maine –Fort Kent at Fisher Classic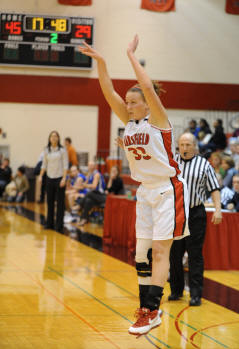 MANSFIELD – The Mansfield University women's basketball team will open its 2009-10 season this weekend at the Fisher Classic in Boston, MA.
The Mountaineers will face host Fisher College on Friday evening before playing the University of Maine at Fort Kent on Saturday afternoon. Both schools compete in the NAIA. Fisher is 1-3 on the season while Fort Kent, the defending Sunrise Conference Champion, is 1-0 on the year.
Becoming more offensively productive will one of the top goals of head coach Ruth Hermansen as she enters her 11th season at the helm of the Mountaineer program.
Mansfield returns three starters, including last year's freshman sensation Mallory Moore (Beech Creek/Central Mountain), but with just three upperclassman in graduate student Mallory Hafer (Sayre/Athens) along with juniors Tegan Atallah (Reading, MA/Reading Memorial) and Nicole Pender (Elkins Park/Cheltenham), the Mountaineers will be very young in 2009-10.
Moore, who led the Mountaineers in scoring and rebounding, will be the centerpiece of the team again this season after averaging 10.9 points and 6.7 rebounds as a freshman last season. Moore, who also topped the team in field goal percentage and was second in steals, was a two-time PSAC East Freshman of the Week selection in 2008-09 and will be expected to be even more productive this year.
Pender will be directing the offense this year after coming into her own as the starting point guard last season. The steady Pender averaged 7.2 points per game along with dishing out 56 assists in 2008-09 and is expected to increase her scoring this season.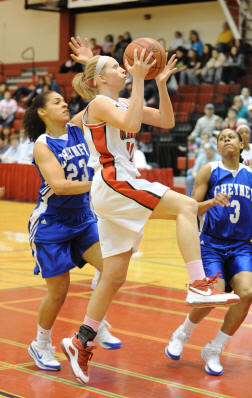 Fellow junior Tegan Atallah will play a larger role on this year's squad after appearing in 24 games including three starts last season. Atallah averaged 3.1 points per game as a sophomore and sported one of the best shooting percentages on the team.
Mallory Hafer is one of three Hafer sisters on the Mountaineers roster – all of them guards -- this season along with sophomore twins Meredith and Morgan Hafer (Sayre/Athens). Mallory, hopes to recapture her shooting stroke that led the PSAC in 3-pointers her sophomore season. Morgan will be sidelined for the 2008-09 after suffering a preseason injury while Meredith appeared in 25 games, including eight starts, as a freshman last season averaging 1.6 points per game.
Emma Lacey's (Catasauqua/Catasauqua) role should increase after appearing in 15 games and scoring 23 points as a freshman last year.
The development of a talented freshmen class could be the difference maker for the team's success this year. Julia Stevenson (Jersey Shore/Jersey Shore) will bring much needed depth in the post after averaging 15 points and 10 rebounds per game as a high school senior.
Kayla Espigh (Lewistown/Lewistown) is the younger sister of former Mountaineer standout Alicia Espigh and has inherited her sister's offensive prowess as a 1,000 point scorer in high school. Victoria Lacey (Catasauqua/Catasauqua) is the younger sister of teammate Emma Lacey and also brings plenty of offensive scoring power to Mansfield after averaging 12.0 points with 4.9 assists during her senior year in high school. Victoria also holds her high school career three-point record with 138.
Also vying for time are freshman forward Sydnee Reeves (Cedar Lake, IN/Crown Point).
Mansfield will be on the road for the first five games of the season before hosting Mercyhurst on Dec. 7.