RELEASE DATE: 2/27/10
FOR IMMEDIATE RELEASE: Mansfield women close out 2009-2010 season with 72-42 loss at #23 Millersville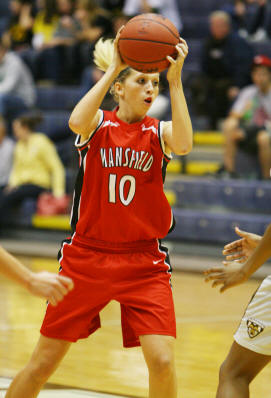 MILLERSVILLE – Mallory Moore scored a game-high 17 points but it wouldn't be enough to overcome PSAC East Champion and No. 23 ranked Millersville in the final regular season PSAC East game of the season a t Pucillo Gymnasium Saturday afternoon.
Moore, who scored 16 of Mansfield's 22 first-half points, capped off her exceptional sophomore season, by scoring 348 points and pulling down 223 rebounds.
Millersville jumped out to an 11-0 lead before Mansfield countered behind Moore with an 16-7 run to close to 18-16 nine minutes into the game. Mansfield trailed 23-18 on a Moore layup seven minutes before halftime but Millersville went on a 14-4 run over the remainder of half to take what would prove to be an Insurmountable 37-22 advantage at intermission.
Mallory Hafer closed out her exceptional career by scoring nine points on three 3-points, all them coming in the second half. Hafer ends her career with 781 career points and a school-record 192 3-pointers.
Mansfield shot just 22.4% from the floor to Millersville's 50.0%.
Millersville (23-4, 13-1 PSAC East) had four players score in double-figures led by Dominique Stoman with 16 points and Ashley Moyer with 15 points.
Mansfield closes out the season with a 5-21 overall record and 2-12 in the PSAC East.