RELEASE DATE: 2/26/10
FOR IMMEDIATE RELEASE: A Mansfield win at Millersville Saturday locks up PSAC East title – Mountaineers hold tiebreaker over Cheyney and East Stroudsburg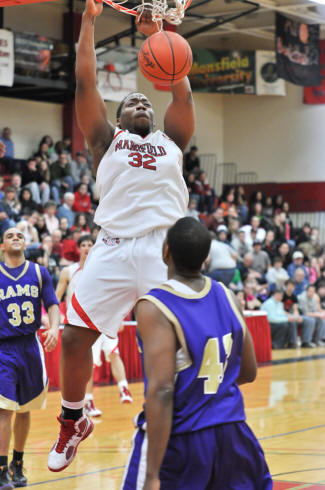 MANSFIELD – Saturday's Mansfield University men's basketball game at Millersville holds much more importance than just the last game of the regular season.
A win at Millersville (8-18, 3-10 PSAC East) would give the Mountaineers their first PSAC East title since the 2005 season and with it home court advantage throughout the upcoming PSAC Championship Tournament.
Mansfield (18-8, 9-4 PSAC East) is currently locked in a 3-way tie for first place in the PSAC East with Cheyney (16-10, 9-4 PSAC East) and East Stroudsburg (22-4, 9-4 PSAC East) all with 9-4 conference records going into Saturday's regular season finale. Cheyney host Shippensburg (11-15, 4-9 PSAC East) on Saturday while East Stroudsburg travels to West Chester (16-10, 5-8 PSAC East).
A Mansfield win at Millersville would give the Mountaineer the No. 1 seed in the PSAC East no matter what the outcome of the Cheyney and East Stroudsburg games. Mansfield holds the tiebreaker over both teams.
Mansfield defeated Cheyney in both meetings this season as did East Stroudsburg. Mansfield and East Stroudsburg split their two games but Mansfield split with Kutztown and swept Bloomsburg while East Stroudsburg lost to Kutztown twice and split with Bloomsburg.
The winner of Saturday's Bloomsburg at Kutztown game will earn the fourth and final playoff berth in the East. Mansfield would host the winner of that game on Tuesday if the Mountaineers get the No. 1 seed on Saturday.
The only way Mansfield wouldn't host an opening round playoff game on Tuesday would be if both Cheyney and East Stroudsburg won and Mansfield lost. In that case the Mountaineers would be the No. 3 seed and travel to No. 2 Cheyney on Tuesday.
Mansfield defeated Millersville 67-64 at Decker Gymnasium earlier in the season with Yuseff Carr and Derrison Anthony combining for 32 points and 15 rebounds in that game. Mansfield was without Tony Fannick in that first meeting but Fannick will be available for Saturday's game.
Mansfield has won its last four games, including three in a row at Decker Gymnasium, and is 7-4 on the road this season including 3-3 at PSAC East opponents. The Mountaineers defeated Millersville last year at Pucillo Gymnasium snapping a four game losing-steak going back to the 2004 season at the Millersville facility.
Mansfield has won the last three meetings between the two schools with each game decided by four or less points.
The Mountaineers are led by junior forward Yuseff Carr who ranks 6th in the PSAC in scoring (16.9 ppg) and rebounding (8.6 rpg). Carr has averaged 19.5 points over the last four games hitting 59% of his shots from the floor. Senior Ryan Callahan, who scored a season high 29 points in Wednesday's 68-64 win over Bloomsburg, also ranks among the conference scoring leaders with a 15.3 points per game average.
Tony Fannick, who missed six games earlier in the season, is averaging 10.7 points per game and senior guard Chris Pender 10.1 points per contest. Junior forward Derrison Anthony has been impressive during conference play and is averaging 9.3 points and 7.2 rebounds on the season. Senior point guard Justin Simmons, who transferred to Mansfield from Millersville last season, is averaging 7.7 points per game.
Millersville is led by Jason Blake who averages 10.7 points per game.
You can listen to a live broadcast of the game, and follow the action with live stats, on the internet at www.GoMounties.com starting at 3:10 p.m.
2009-10 PSAC Men's Basketball Standings
School

Conf

CPct.

Overall

Pct.

Streak

East

9-4

0.692

22-4

0.846

W2

9-4

0.692

18-8

0.692

W4

Cheyney *

9-4

0.692

16-10

0.615

W1

7-6

0.538

20-6

0.769

L3

6-7

0.462

12-13

0.480

L1

5-8

0.385

16-10

0.615

W1

4-9

0.308

11-15

0.423

L1

3-10

0.231

8-18

0.308

L3

West

Indiana (Pa.) (1)

12-1

0.923

24-2

0.923

W6

Clarion (2)

9-4

0.692

17-9

0.654

W2

7-6

0.538

17-9

0.654

L1

7-6

0.538

12-14

0.462

W1

6-7

0.462

18-10

0.643

W2

4-9

0.308

15-11

0.577

L2

4-9

0.308

10-16

0.385

L2

3-10

0.231

6-18

0.250

L5
() Divisional seed - PSAC playoffs

* Clinched PSAC playoff berth