RELEASE DATE: 1/03/10
FOR IMMEDIATE RELEASE: Mansfield women snap seven-game losing streak with 55-43 win over Lock Haven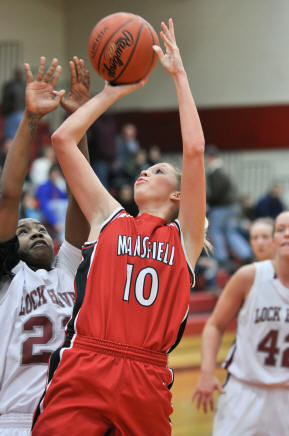 MANSFIELD – Mallory Hafer scored a game-high 19 and Mallory Moore had a double-double with 10 points and 16 rebounds to lead Mansfield to a 55-43 win over Lock Haven in a PSAC crossover contest Sunday afternoon in Decker Gymnasium.
Both teams struggled to put points on the board early with the score tied at just 7-7 midway through the first half. Mansfield trailed 15-14 with five minutes remaining in the half when freshman Julia Stevenson scored 10 straight points to give the Mountaineers a 26-16 halftime advantage.
Mansfield extended its lead to 29-16 on a 3-pointer by Meredith Hafer to start the second half but Lock Haven chipped away to cut the lead to 38-37 on a Casi Donelan layup with 4:12 to play.
A 3-pointer by Emma Lacey moments later and another 3-pointer by Mallory Hafer with just under three minutes to play gave Mansfield 46-39 advantage and the Mountaineers connected on 9-of-12 free throws in the final ninety seconds to preserve the win.
In addition to Hafer and Moore, Stevenson scored 10 points and pulled down six rebounds in 12 minutes of play.
Kristen Kudrick led Lock Haven with 11 points.
The win avenges an early season 67-56 loss at Lock Haven and snapped a seven-game losing streak.
Mansfield travels to Clarion and Gannon this Saturday and Sunday.