RELEASE DATE: 11/29/09
FOR IMMEDIATE RELEASE: Mansfield women suffer 81-46 setback at Lake Erie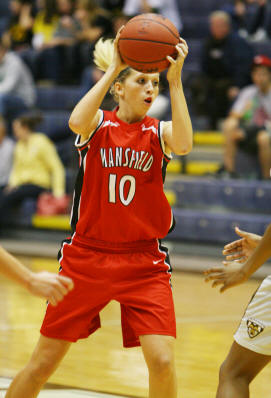 PAINESVILLE, OH – Renese Ames and Brittany Zele combined for 37 points to lead Lake Erie College to an 81-46 win over Mansfield in women's college basketball action Sunday.
Mansfield held a 11-9 lead on a jumper by Mallory Moore just over five minutes into the game but Lake Erie would outscore the Mountaineers 32-11 over the remainder of the first half to take an insurmountable 41-22 lead at halftime.
Lake Erie (3-3) scored 33 of its points off 22 Mansfield turnovers and held the Mountaineers to just 13 field goals in the game.
Nicole Pender and freshman Kayla Espigh led Mansfield in scoring with eight points each while Mallory Moore scored seven points and pulled down a game high nine rebounds.
Mansfield falls to 2-2 overall and travels to Lock Haven on Wednesday.
Mansfield University vs Lake Erie College
11/29/09 1 p.m. at Painesville, Ohio
Mansfield University 46
Total

3-point

Rebounds

##

Player

p

fgm-fga

fgm-fga

ftm-fta

off-def

tot

pf

tp

a

to

blk

stl

min

10

Mallory Moore

f

3-10

1-4

0-2

6-3

9

2

7

0

5

0

0

25

32

Tegan Atallah

f

2-8

0-2

0-0

3-4

7

1

4

0

1

0

0

25

22

Meredith Hafer

g

1-4

0-3

0-0

3-1

4

0

2

4

4

0

0

33

33

Mallory Hafer

g

1-9

1-6

0-0

1-1

2

1

3

2

1

0

1

26

35

Nicole Pender

g

2-10

1-1

3-6

1-2

3

2

8

1

3

0

0

27

20

Emma Lacey

-

1-5

1-3

1-2

0-0

0

0

4

0

2

0

0

11

24

Sydnee Reeves

-

1-3

0-1

3-4

1-1

2

0

5

0

1

1

1

17

25

Kayla Espigh

-

2-5

0-1

4-4

1-3

4

0

8

1

2

0

0

15

34

Victoria Lacey

-

0-0

0-0

0-0

1-1

2

0

0

0

0

0

0

8

41

Julia Stevenson

-

0-1

0-0

5-6

1-4

5

0

5

0

1

0

1

13

TM

TEAM

-

-

-

-

0-3

3

-

-

-

2

-

-

-

Totals..............

-

13-55

4-21

16-24

18-23

41

6

46

8

22

1

3

200

23.6%

19.0%

66.7%

Team summary:

FG

3FG

FT

1st Half:

8-31

3-11

3-6

25.8%

27.3%

50.0%

2nd Half:

5-24

1-10

13-18

20.8%

10.0%

72.2%
Lake Erie College 81
Total

3-point

Rebounds

##

Player

p

fgm-fga

fgm-fga

ftm-fta

off-def

tot

pf

tp

a

to

blk

stl

min

15

Stephanie Rogers

f

2-6

0-0

0-0

1-5

6

0

4

3

1

3

3

24

44

Alyssa Wagers

f

5-5

0-0

1-1

1-4

5

2

11

1

2

1

0

19

05

Brittany Zele

g

8-13

2-4

0-0

0-3

3

4

18

1

0

0

2

25

12

Jen Caiola

g

1-7

0-6

0-0

1-2

3

2

2

0

1

0

0

20

23

Britt Busson

g

1-6

1-5

0-0

0-0

0

0

3

3

0

0

2

20

03

Renese Ames

-

7-10

3-3

2-2

4-3

7

3

19

1

1

2

2

18

13

Allison Pavkov

-

1-3

0-0

0-0

2-1

3

2

2

0

2

0

1

11

20

Alex Ardo

-

0-5

0-1

0-0

1-0

1

2

0

0

1

0

1

8

22

Chloe Irish

-

3-4

0-1

0-0

2-1

3

0

6

1

0

0

2

13

25

Sarah Wojciechowski

-

3-8

2-4

0-0

0-1

1

0

8

1

2

0

0

16

31

Samantha McKinney

-

1-3

0-0

0-0

0-1

1

2

2

0

0

0

0

10

35

Liz Stephens

-

2-4

0-0

2-2

2-4

6

1

6

0

0

0

2

16

TM

TEAM

-

-

-

-

3-3

6

-

-

-

-

-

-

-

Totals..............

-

34-74

8-24

5-5

17-28

45

18

81

11

10

6

15

200

45.9%

33.3%

100 %

Team summary:

FG

3FG

FT

1st Half:

17-34

6-15

1-1

50.0%

40.0%

100 %

2nd Half:

17-40

2-9

4-4

42.5%

22.2%

100 %
| | | | | |
| --- | --- | --- | --- | --- |
| Score by Periods | 1st | 2nd | Total | |
| Mansfield University | 22 | 24 | 46 | Record: (2-2) |
| Lake Erie College | 41 | 40 | 81 | Record: (3-3) |