RELEASE DATE: 1/20/10
FOR IMMEDIATE RELEASE: Mansfield women fall to Kutztown 86-73 in double overtime
Watch Nicole Pender's game-tying shot on YouTube -- http://www.youtube.com/v/ymno9t45wGQ&hl=en_US&fs=1&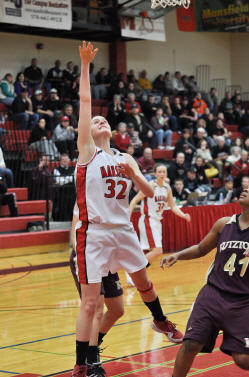 MANSFIELD – Junior Tegan Atallah scored a career-high 18 points and Nicole Pender and Julia Stevenson combined for 32 more but Kutztown held-off a Mansfield upset bid with a 86-73 win in double overtime in a PSAC East game at Decker Gymnasium Wednesday night.
Mansfield trailed 28-19 at halftime before going on a 12-4 run over the first five minutes of the second half cutting the score to 32-32 n a 3-pointer by Atallah. The Mountaineers tied the game at 35-35 a little over two minutes on a jumper by Mallory Moore.
Mansfield took its first lead of the game with 11 minutes to play on a layup by Stevenson but Kutztown would retake the lead holding a 55-49 advantage with just over five minutes to play.
Another 3-pointer by Atallah cut the lead to three the Mountaineers retook the lead 57-55 moments later when Atallah hit her third 3-pointer of the half.
Kutztown led 64-62 with five second to play when Pender drove to the basket and hit a layup as time expired to send the game into overtime.
Mansfield had the last possession in the overtime but the Mountaineers couldn't get off shot before the buzzer sounded to send the game into a second overtime.
Atallah connected on four 3-pointers in scoring her 18 points and also pulled down a team-high eight rebounds. Pender scored 17 points and dished out five assists while also recording four steals. Stevenson, a freshman, scored a season-high 15 points, 11 of them coming in the second half.
Melissa McQuade topped Kutztown (11-5, 2-1 PSAC East) with 23 points and 14 rebounds.
Mansfield falls to 3-12 overall and 0-3 in PSAC East play. The Mountaineers travel to West Chester Saturday.