RELEASE DATE: 2/04/10
FOR IMMEDIATE RELEASE: Mallory Hafer adds another honor to a big week – named to ESPN Academic All-America Team honors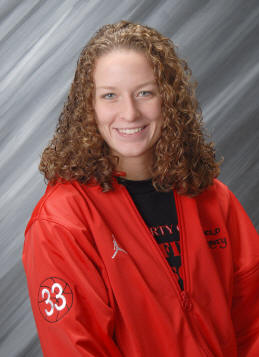 MANSFIELD – Just 24 hours after setting a new school career 3-point record Mallory Hafer experienced another milestone when she was named to second team honors on the 2010 ESPN the Magazine Academic All-America All-District team.
Hafer made second team honors in the College Division which includes all NCAA Division II, III and NAIA competing in the states of Pennsylvania, West Virginia, New Jersey and Delaware. Only those student-athletes with outstanding academic and athletic abilities qualify to be nominated.
Hafer was one of just six PSAC players chosen to one of the three teams in the College Division. Shippensburg's Lauren Beckley and Edinboro's Samantha Reimer were named to first team honors with Meryhurst's Amy Achesinski and Gannon's Brittany Tabron sharing second team honors with Hafer.
Tiffany Crocker of Gannon was named to third team honors.
Hafer is a graduate student at Mansfield after graduating with a 3.91 cumulative grade point average with a degree elementary and special education last year. She is pursuing a master's degree in school library & information technology at Mansfield where she maintains a 3.80 GPA.
Hafer, who currently averages 11.1 points per game and ranks among the top 3-point shooter in the PSAC with 50 on the season, is one of three Hafer daughters on the team. Sophomore Meredith has started at guard much of the season while Meredith's twin sister Morgan was forced to red-shirt this season, after seeing time as starter last year, after suffering a preseason injury.
##