RELEASE DATE: 11/20/09
FOR IMMEDIATE RELEASE: Mallory Hafer scores game-high 25 points to lead Mansfield to season- opening 94-33 win over Fisher College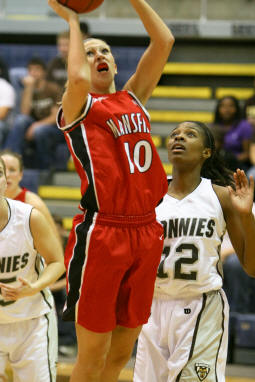 BOSTON – Mallory Hafer scored a game-high 25 points to lead Mansfield to a 94-33 season opening win over Fisher College in the opening round of the Fisher Classic Friday evening in Boston.
Hafer top four Mountaineers in double figures with Mallory Moore adding 14 points, Sydnee Reeves 13 points and Nicole Pender 12 points.
It was the most points scored in a season opener since Mansfield started the women's program in 1976 and the most points for a Mountaineer team since beating Cheyney 97-55 in 2004.
All 10 active players on Mansfield's roster scored with freshman Julia Stevenson pulling down a game-high 11 rebounds.
Hafer went 10-12 from the floor and connected of 5-of-7 3-point attempts in 20 minutes of play. Moore also pulled down eight rebounds in addition to her 14 points while Reeves, a freshman, hit on 6-of-8 of her field goal attempts. Pender dished out seven assist along with her 12 points.
Fisher shot just 21% from the floor to Mansfield's 55%. Tiffany Beckman and Kianesha Dennis each had 11 points to lead Fisher (1-4).
Mansfield will play the University of Maine at Fort Kent on Saturday.
Date: 11/20/2009 Arena: Madison Park CC
Time: 5:00 pm City, State: Roxbury, MA
VISITOR: Mansfield University (1-0)
TOT-FG 3-PT REBOUNDS
NO PLAYER P FG FGA FG FGA FT FTA OFF DEF TOT PF TP A TO BK S MIN
10 Moore, Mallory * 5 9 0 1 4 4 2 6 8 1 14 2 0 2 2 21+
22 Hafer, Merideth * 0 2 0 1 3 4 4 0 4 1 3 3 2 1 2 22-
32 Atallah, Tegan * 4 8 0 1 0 0 0 3 3 1 8 1 3 3 4 23+
33 Hafer, Mallory * 10 12 5 7 0 0 2 1 3 2 25 0 3 0 1 20-
35 Pender, Nicole * 5 8 0 0 2 2 1 2 3 2 12 7 2 0 1 21-
20 Lacey, Emma 2 5 0 1 0 0 0 3 3 1 4 3 0 1 0 17+
24 Reeves, Sydnee 6 8 0 0 1 2 1 6 7 2 13 3 3 3 0 19-
25 Espigh, Kayla 1 5 1 4 0 0 1 1 2 0 3 2 0 0 0 21-
34 Lacey, Victoria 2 3 2 3 0 0 1 3 4 3 6 0 4 0 0 19+
41 Stevenson, Julia 2 7 0 0 2 2 1 10 11 1 6 0 4 0 0 17-
TEAM REBOUNDS 0 0 0 1
Team Totals 37 67 8 18 12 14 13 35 48 14 94 21 22 10 10 200
Total FG% - 1st: 19/32 0.594 2nd: 18/35 0.514 Game: 0.552 Deadball
3-PT FG% - 1st: 7/10 0.700 2nd: 1/8 0.125 Game: 0.444 Rebounds
Total FT% - 1st: 6/6 1.000 2nd: 6/8 0.750 Game: 0.857 (3,6)
HOME: Fisher College (1-4)
TOT-FG 3-PT REBOUNDS
NO PLAYER P FG FGA FG FGA FT FTA OFF DEF TOT PF TP A TO BK S MIN
1 Peeler, McKenzie * 1 2 0 0 0 0 2 1 3 2 2 0 1 0 0 10-
2 Streeter, Jackie * 0 13 0 1 0 3 4 5 9 2 0 0 6 1 1 36-
11 Wadhams, Leslie * 2 7 0 0 0 2 3 5 8 3 4 0 3 0 2 33+
15 Beckman, Tiffany * 4 13 1 4 2 4 1 1 2 3 11 2 4 0 2 37-
23 Dennis, Kianesha * 4 12 0 1 3 8 1 3 4 2 11 2 4 0 2 40
5 McFadden, Natasha 0 3 0 1 0 0 0 0 0 1 0 0 0 0 0 7-
20 Musshorn, Krysten 0 0 0 0 0 0 0 0 0 0 0 0 0 0 0 3+
22 Hyatt, Talia 1 6 1 6 0 0 0 0 0 0 3 1 3 0 3 20+
33 Kaine, Shennelleh 0 0 0 0 0 0 0 0 0 0 0 0 0 0 0 2+
44 Ruffin, Darneisha 1 6 0 0 0 0 0 0 0 0 2 1 0 0 0 12-
TEAM REBOUNDS 0 0 0 1
Team Totals 13 62 2 13 5 17 11 15 26 13 33 6 22 1 10 200
Total FG% - 1st: 8/31 0.258 2nd: 5/31 0.161 Game: 0.210 Deadball
3-PT FG% - 1st: 1/8 0.125 2nd: 1/5 0.200 Game: 0.154 Rebounds
Total FT% - 1st: 3/9 0.333 2nd: 2/8 0.250 Game: 0.294 (9,1)
Technical Fouls: MANU (0)
: FC (0)
OFFICIALS : Pete Binney Matt Moniz Chris Donovan
ATTENDANCE : 75
SCORE BY PERIODS 1st 2nd TOTAL
Mansfield University 51 43 94
Fisher College 20 13 33