RELEASE DATE: 11/6/09
FOR IMMEDIATE RELEASE: Mansfield Women Fall in 71-18 in Exhibition Game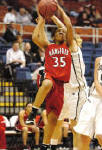 The Mansfield University women's basketball team had a difficult time scoring in a 71-18 loss to NCAA Division I St. Bonaventure on bob Lanier Court at the Reilly Center Friday night.

Junior Tegan Atallah scored a team-best eight points for Mansfield and pulled down three rebounds. The Mountaineers managed to connect on just 18.8% of their shots from the floor. Mallory Moore scored four points and Nicole Pender three.
Dana Mitchell led St. Bonaventure with 17 points.