RELEASE DATE: 2/17/10
FOR IMMEDIATE RELEASE: East Stroudsburg holds on to beat Mansfield 68-63 in PSAC East action
Game Box Score
YouTube highlights of game -- http://www.youtube.com/watch?v=2VJNxhB-0MI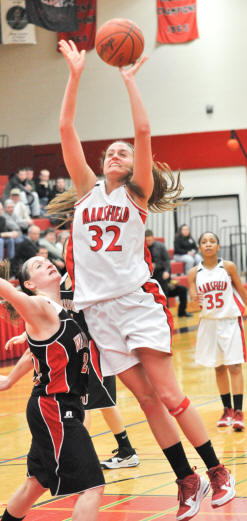 MANSFIELD – Mansfield had five players scoring in double-figures, including Mallory Moore and Mallory Hafer with 14 points each, but it wouldn't be enough to overcome an 18 point effort by DeAnna Rayham as East Stroudsburg held off a late Mansfield rally to earn a 68-63 win in a PSAC East contest Wednesday night in Decker Gymnasium.
Mansfield trailed much of the game including 33-25 at halftime.
East Stroudsburg extended its lead to 53-37 midway through the second half on a 3-pointer by Cyara Woodridge before the Mountaineers slowly started to chip away at the lead.
Mansfield cut the lead to 55-48 on a 3-pointer by Mallory Hafer with seven minutes to play and closed the gap to 59-56 on a 3-pointer by Meredith Hafer with just under four minutes to play.
East Stroudsburg (4-20, 2-9 PSAC East) went up 56-64 seconds later but Mansfield came right back to pull to 64-61 on a jumper by Meredith Hafer with 1:03 to play.
Mansfield still trailed by three and had the final shot of the game but Mallory Moore's 3-pointer with two seconds left went off the side of the rim.
Moore scored 10 of her 14 points in the second half while Mallory Hafer also had 14 points with 12 of them coming off 3-pointers. Tegan Atallah scored all 13 of her points in the second half while Nicole Pender and Meredith Hafer each added 10 points.
In addition to Rayam game-high 18 points; Barb Borst added 15 points and Cyara Woodridge 12.
Mansfield (4-19, 1-10 PSAC East) held a 36-30 rebounding edge in the game.
The two teams have now split the season series with Mansfield capturing a 47-44 win at East Stroudsburg earlier in the season.