RELEASE DATE: 1/27/10
FOR IMMEDIATE RELEASE: Mountie women edge East Stroudsburg 47-44 to pick up first PSAC East win of the season – Mallory Moore records fifth double-double of season with 19 points and 14 rebounds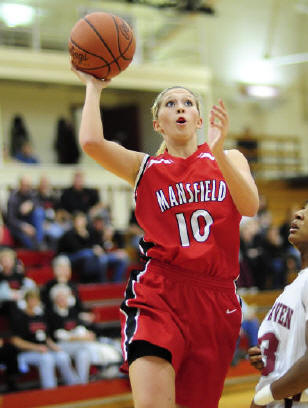 EAST STROUDSBURG, PA – Mallory Moore recorded her fifth double-double of the season with a game- high 19 points and 14 rebounds to lead Mansfield to a 47-44 win over East Stroudsburg in a PSAC East contest at Koehler Fieldhouse Wednesday evening.
It was the first PSAC East win in five tries for Mansfield this season and snaps a six-game losing streak.
The game was tight throughout featuring six ties and five lead changes in the first half alone after Mansfield scored the first six points of the game.
East Stroudsburg held on for a slim 25-24 halftime lead. East Stroudsburg increase its lead to 29-26 six minutes into the second half before Mansfield tied the score a minute later when Nicole Pender hits a layup and the ensuing free to tie the score at 29-29.
Mansfield (4-13, 1-4 PSAC East) extended its lead to as much as 37-30 on the second of two free from Pender mid-way through the second half.
East Stroudsburg closed to 41-40 on a 3-pointer by DeAnna Rayam with 5:47 to play.
But Mansfield got a layup from Pender and two free throws by Moore to take a 45-40 advantage three minutes later.
Mansfield led 47-42 on a Moore jumper with just under a minute to play before East Stroudsburg pulled to 47-44 with 38 second to play.
East Stroudsburg had one final chance tie the score by Mel Villano's 3-pointer with a second left was off the mark earning Mansfield its first conference win of the season.
It was the first time Mansfield has defeated a PSAC East opponent on the road since beating Cheyney 81-75 in double-overtime during the 2006-07 season and the Mountaineers first win at Koehler Fieldhouse since a 61-46 win in the last game of the 2004 regular season.
Mansfield won the game despite going 0-12 on 3-point attempts and committing 39 turnovers. It was the first time since going 0-11 against Goldey-Beacom on Dec. 30, 2005 that Mansfield has not scored at least one 3-pointer in a game while the 39 turnovers ties the school record for turnovers in a game first set against Cheyney in 2002 and against Drury in the third game of the 2003 season.
Mansfield connected on 19-20 free throws and held a 45-30 rebounding advantage.
Moore connected on all 11 of her free throws in scoring her game-high 19 points and also pulled down 14 rebounds to record her fifth double of the season. She just missed a triple-double with a career-best eight steals. Pender scored 10 points while freshman Julia Stevenson added six points and six rebounds.
Brittany McClain led East Stroudsburg (3-15, 1-4 PSAC East with 12 points while DeAnna Rayam scored 11 points.
Mansfield will host PSAC East frontrunner Millersville this Saturday.