RELEASE DATE: 1/02/10
FOR IMMEDIATE RELEASE: Edinboro runs away from Mansfield in second half – Mallory Moore records third double-double of season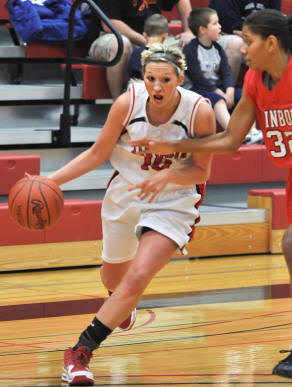 MANSFIELD – Mansfield's Mallory Moore scored a game-high 18 points and recorded her third double-double of the season but it wouldn't be enough to stem 53 point s second half by Edinboro as the Mountaineers dropped a 90-48 decision in a PSAC crossover game Saturday afternoon in Decker Gymnasium.
Mansfield (2-7) hit its first five shots of the game and led early before trailing by just 37-27 at halftime.
But Edinboro would explode after intermission outscoring Mansfield 10-2 over the first three minutes of the second half while holding the Mountaineers to 21 second half points.
Mansfield committed a season-high 28 turnovers to just four by Edinboro.
In addition to her game-high 18 points, Moore also pulled down a game-best 11 rebounds while Nicole Pender added 14 points and six rebounds for Mansfield.
Edinboro (6-3), which featured the top offense in the PSAC, had five players in double-figures led by Samantha Blazetic with 17 points.
Mansfield will host Lock Haven on Sunday.