RELEASE DATE: 11/23/09
FOR IMMEDIATE RELEASE: Mansfield women's basketball announces two early signings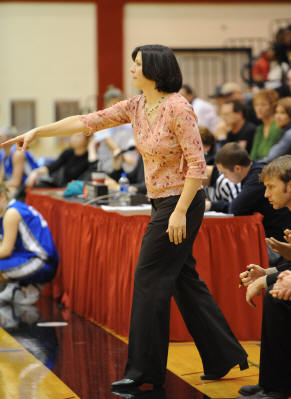 MANSFIELD – Mansfield University head women's basketball coach Ruth Hermansen announced that Jena Matter (Bellefonte/Bellefonte) and Megan Touhey (Johnson City,NY/Maine-Endwell) will join the Mountaineers program for the 2010-11 season. Both student-athletes signed a National Letter of Intent during the NCAA's regular signing period.
"We are pleased to have two quality student-athletes commit to the program early," said Hermansen. "Both are outstanding students as well as athletes who will be very nice additions to some of the skilled players currently in our program."
Matter, a 6-1 forward, was the Most Valuable Player of the Allegheny Division of the Mountain Athletic League as a junior last season. Matter averaged 12 points and 11 rebounds per game in helping her team to the division and league titles. Also an all-league selection in volleyball, Matter played AAU basketball for the Central PA Runnin' Rebs.
Touhey is a 5-10 guard who was named the Basketball Coaches Association of New York (BCANY) Section 4 Class A Player of the Year as a junior last season. Touhey, who was also a STAC All-Division and All-Metro selection, helped her team to the capture the Section 4 Class A Championship averaging 9 points and 4 rebounds per game. Touhey played AAU basketball for the STNY Flyers.
Both have earned scholar-athlete honors in high school.