RELEASE DATE: 12/10/09
FOR IMMEDIATE RELEASE: Mansfield women host Comfort Inn Classic this Friday and Saturday – Mounties host first home tournament since 1995 – Welcome Lake Erie, Le Moyne and Slippery Rock to Decker Gym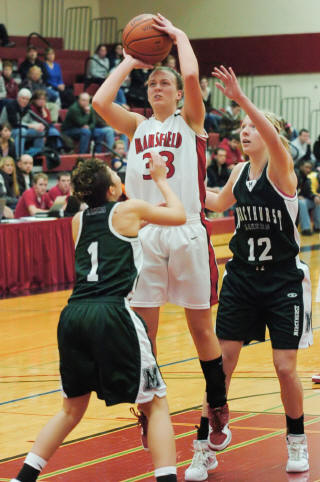 MANSFIELD – The Mansfield University women's basketball program will host its first home tournament since 1995 when the Mountaineers welcome Lake Erie, Le Moyne and Slippery Rock to Decker Gymnasium this Friday and Saturday for the 2009 Comfort Inn Classic.
Friday's schedule features Slippery Rock vs. Le Moyne at 5:30 p.m. followed by Mansfield taking on Lake Erie at 7:30. Slippery Rock faces Lake Erie on Saturday at 1 p.m. followed by Mansfield hosting Le Moyne at 3 p.m.
Admission is $5 for adults and $3 for students each day with MU students admitted free with their ID. Mansfield's game will be broadcast live on WNTE 89.5 FM and streamed on the internet at GoMounties.com.
MANSFIELD UNIVERSITY (2-4)
Mansfield comes into the tournament with a 2-4 overall record. The Mountaineers started the season with two wins in a tournament at Boston but have lost their last four games including a 81-46 setback at Lake Erie.
Mansfield played its first five games of the season on the road before dropping a 69-63 decision against Mercyhurst at Decker Gymnasium on Monday. The Mountaineers are ranked 9th in the PSAC in scoring (66.7 ppg) and 13th in scoring defense (62.5 ppg). Mansfield has three of the top 23 scorers in the PSAC. Grad student Mallory Hafer ranks 10th in the conference in scoring averaging 15.7 points per game and is second in the PSAC in 3-point field goals per game (3.3). Sophomore Mallory Moore is 18th in scoring (13.5 ppg) and 6th in rebounding (8.7 rpg). She also ranks 5th in the PSAC in free throw percentage (88.9).
Junior Nicole Pender is 23rd in the PSAC in scoring (12.0 ppg), 2nd in assists (5.5 apg) and 15th in free throw percentage (80.6). Junior Tegan Atallah ranks 16th in the PSAC in rebounding (6.5 rpg) and 6th in blocked shots (1.7 bpg)
LAKE ERIE COLLEGE (5-4)
Lake Erie is off to the programs' best start since the 1998-99 season. No team in the 30 year history of the program has won six of its first 10 games. The Storm, which plays Mansfield and Slippery Rock this weekend, has already posted wins over both teams this year. Lake Erie tied a school record for points in a game in a 101-70 win over Midway in its last outing.
Lake Erie is averaging 73.7 points per game this season while allowing opponents 66.0. The Storm has four players averaging double figures led by Alyssa Wagers who averages 14.7 points and 8.4 rebounds per game. Jen Caiola is averaging 12.2 points with Renese Ames and Stephanie Rogers averaging 10.8 and 10.1 points per game respectively.
LE MOYNE COLLEGE (1-5)
This weekend's tournament marks the first two non-conference games of the season for Le Moyne which is 1-5 on the season The Dolphins only win came by a 55-44 margin over Northeast-10 opponent American International.
The Dolphins are averaging 53.2 points per game this season while give up 63.3 points per game. Senior forward Courtney Coryea has been the team's leading scoring averaging 13.4 points per game while also pulling down a team-best 6.6 rebounds per contest. Seniors Muffy Sandler and Siobhan Shields average 9.8 and 8.0 points per game respectively.
SLIPPERY ROCK UNIVERSITY (2-5)
A member of the PSAC West, Slippery Rock brings a 2-5 mark into the Comfort Inn Classic with wins over Georgian Court and PSU-Beaver. The Rock dropped an 82-70 decision to Pitt-Johnstown in their last outing.
SRU currently ranks 15th in the PSAC in scoring averaging 61.7 points per game and ranks 14th in the conference in scoring defense (65.0 ppg). Julie Malloy tops the team and scoring and ranks 26th in the PSAC averaging 11.3 points per game. Nikki Presto is averaging 10.4 points along with a team-high 6.4 rebounds per contest.