RELEASE DATE: 1/09/10
FOR IMMEDIATE RELEASE: Mansfield women drop 65-24 decision at Clarion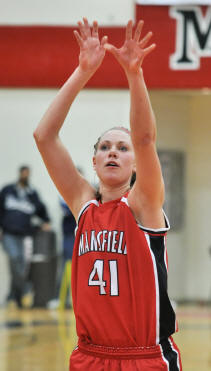 CLARION – The Mansfield women's basketball team scored a record-low 24 points in a 65-24 loss at Clarion in a PSAC crossover contest Saturday afternoon.
Mansfield took just six less shots from the floor (50-56) than Clarion but the Mountaineers managed to connect on just 11 of those attempts (22%) including 1-of-13 on 3-point attempts. Mansfield went to the free throw line a just four times, making one, in the loss.
Mansfield didn't score its first points until Mallory Moore stole the ball and scored on a layup almost seven minutes into the game to trail 8-2.
Freshman Julia Stevenson came off the bench to lead Mansfield with seven points and five rebounds. Stevenson hit 3-of-4 shots from the floor. Moore and Tegan Atallah each added six points.
Clarion (8-4) connected on 7-of-10 3-point attempts in the first half. The Golden Eagles were paced by Bethany Koch and Lizzie Suwala who scored 16 and 11 points respectively.
Mansfield's 24 points were the fewest scoring in a game since the women's basketball program was established in 1976.
Mansfield travels to undefeated and No. 4 ranked Gannon on Sunday.