RELEASE DATE: 2/13/10
FOR IMMEDIATE RELEASE: Mallory Moore records double-double but Mansfield women drop 85-49 decision at Cheyney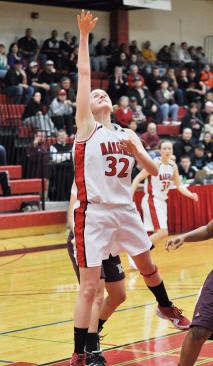 CHEYNEY -- Mallory Moore recorded her seventh double-double this season with 17 points and 12 rebounds, but it wouldn't be enough to offset 32 turnovers as Mansfield dropped an 85-49 PSAC East decision Saturday against Cheyney.
The score was tied at 6-6 five minutes into the game until Cheyney began to pull away.
Cheyney (8-13, 5-4 PSAC East) used a 15-0 run in the first half holding Mansfield scoreless for more than five minutes to take a 21-6 lead before taking a 33-20 lead into halftime.
Cheyney outscored Mansfield 52-29 in the second half.
Moore connected on 5-11 from the floor and 7-9 at the free throw line in scoring her 17 points. Tegan Atallah added 11 points and pulled down four rebounds.
Cheyney held a 46-35 rebounding advantage and committed just 10 turnovers. The Wolves scored 42 points off Mansfield's 32 turnovers.
Angel Stephens and Stephanie Orji both recorded double-doubles for Cheyney. Stephens had 29 points, 11 rebounds and Orji had 21 points, 12 rebounds.
Mansfield (4-18, 1-9 PSAC East) will host East Stroudsburg on Wednesday, February 17 in Decker Gymnasium at 5:30 p.m.