RELEASE DATE: 1/16/10
FOR IMMEDIATE RELEASE: Cheyney downs Mansfield women 61-41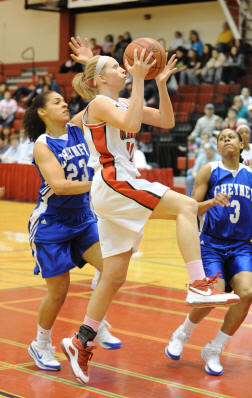 MANSFIELD – Mallory Hafer and Mallory Moore each scored 13 points but it wouldn't be enough to offset a huge rebounding deficit as Mansfield dropped a 61-41 decision to Cheyney in a PSAC East basketball game Saturday afternoon in Decker Gymnasium.
The game was tight throughout much of the first half featuring eight ties and seven lead changes. A pair of Moore free throws gave Mansfield a 18-14 lead eight minutes into the game but Cheyney went on a 10-0 run over the final five minutes of the half to take a 35-25 lead into halftime.
Cheyney (4-9, 1-1 PSAC East), which held a 49-26 rebounding advantage, outscored Mansfield 14-4 over the final 10 minutes of the game to thwart any hope of a Mountaineer comeback. Mansfield managed to hit just 4-20 (20.0%) of its shots in the second half in the loss.
Hafer and Moore both scored 10 of their 13 points in the first half.
Lutfiyya Muhammad and Angel Stephens led Cheyney with 18 points each with Stephens recording a double-double with 12 rebounds.
Mansfield falls to 3-11 overall and 0-2 in the PSAC East. The Mountaineers host Kutztown Wednesday evening.