RELEASE DATE: 2/03/10
FOR IMMEDIATE RELEASE: Mallory Hafer breaks career 3-point record in 74-54 loss at Bloomsburg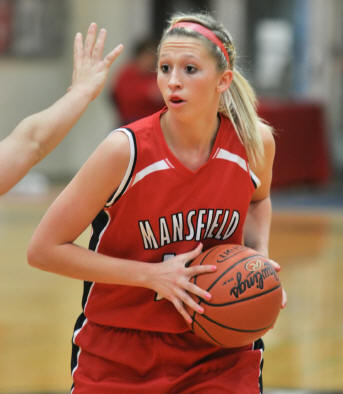 BLOOMSBURG – Mallory Moore posted a double-double with 18 points and 13 rebounds and Mallory Hafer broke the school career 3-point record but it won't be enough to overcome a torrid 3-point barrage by Bloomsburg in a 74-54 PSAC East loss at Nelson Fieldhouse Wednesday evening.
Bloomsburg connected on 9-of-14 3-pointers in the first half to take a 47-26 halftime lead.
Mansfield closed to 60-46 with eight minutes to play on a 3-pointer by Hafer but couldn't pull any closer.
Hafer, who scored all of her 13 points in second-half, broke former teammate Alicia Espigh's career 3-point record of 172 with her fourth and final 3-pointer of the game with 2:17 to play.
Moore recorded her seventh double-double of the season also had three steals and two assists.
Bloomsburg (13-6, 5-2 PSAC East) had four players in double figures led by Kayla Oxenrider with 19 points and Dana Wieller 15 points.
Mansfield closes out the first half of the PSAC East season with a 1-6 conference mark and 4-15 overall. The Mountaineers will host Shippensburg on Saturday at Decker Gymnasium.