RELEASE DATE: 2/24/10
FOR IMMEDIATE RELEASE: Mansfield women drop home finale to Bloomsburg 87-54 – Mallory Moore records eighth double-double of the season for Mounties

Box Score
YouTube Link: http://www.youtube.com/watch?v=ywDAlIZ9bjg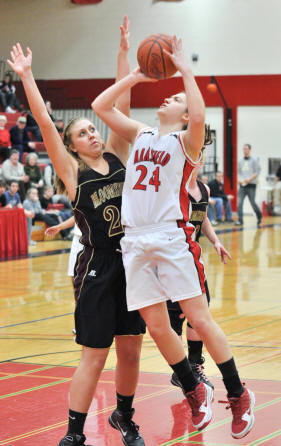 MANSFIELD – Mallory Moore recorded her eighth double-double of the season but it would be enough to overcome a torrid shooting performance by Bloomsburg as Mansfield dropped a 87-54 decision to the Huskies in a PSAC East game Wednesday night in Decker Gymnasium Wednesday night.
Mansfield led 7-5 on a pair of free throws by Moore four minutes into the game but Bloomsburg used a 15-0 run over the next seven minutes to take what would prove to be an insurmountable 20-7 lead with 10 minutes to play in the first half increasing the advantage to 35-17 at halftime.
Bloomsburg (15-10, 7-6 PSAC E.) outscored Mansfield 87-54 in the second half.
Bloomsburg shot 54.2% from the floor to Mansfield's 30.8% and made 11 3-pointers to Mansfield's five.
Moore led the Mountaineers with 19 points and 11 rebounds. She hit all nine of her free throws. Mallory Hafer, playing her last game in Decker Gymnasium, was Mansfield's next leading scorer with nine points.
Kelsey Gallagher led four Bloomsburg players in double-figures with a game-high 24 points with Dana Wieller scoring 18 points Dayla Oxenrider 12 points and Lauren Biczelewski 11 points.
Mansfield falls to 5-20 overall and 2-11 in the PSAC East. The Mountaineers will close out the 2009-10 campaign at first-place Millersville on Saturday.