RELEASE DATE: 1/07/09
FOR IMMEDIATE RELEASE: Mansfield women fall to #25 UDC – Alicia Espigh tops four Mountaineers in double-figures with 14 points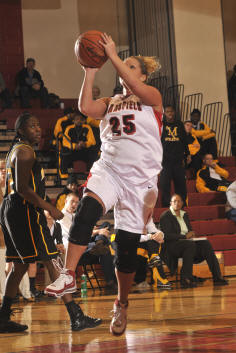 MANSFIELD – Alicia Espigh topped four Mountaineers in double figures with 14 points and Mansfield hung tough early with #25 ranked University of the District of Columbia before falling 73-54 in a non-conference game Wednesday afternoon at Decker Gymnasium.
Mansfield took an early lead in the first minute of the game on an Espigh 3-point before UDC jumped out to a 29-18 advantage with 7:37 remaining in the first half. Mansfield chipped away cutting the lead to 33-27 on a Courtney Brooks jumper with just under five minutes remaining the half but could pull no closer.
The game was just the second home contest of the 2008-09 season for the Mountaineers and their first home game since posting a 90-56 win over Penn College back on Dec. 1.
UDC shot a blistering 54.5% from the floor and held a 40-24 rebounding margin in the game.
Mallory Hafer had 12 points for Mansfield ,all of them coming off three-pointers, while Mallory Moore scored 11 points and pulled down a team best seven rebounds. Clarissa Correll had 10 points and five assists and three steals.
LaQuanda Brandon led UDC (12-2) with a game-high 21 points with Deyshia Williams posting a double-double with 15 points and 11 rebounds.
Mansfield will host Clarion in a PSAC crossover game this Saturday afternoon at Decker Gymnasium.