RELEASE DATE: 2/7/09
FOR IMMEDIATE RELEASE: Courtney Brooks scores game-high 21 points but second half rally gives Shippensburg 59-50 PSAC East win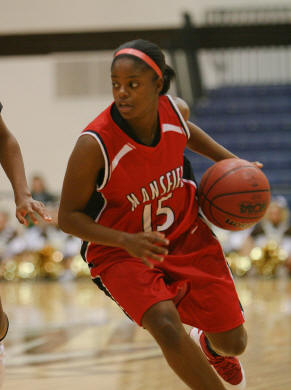 SHIPPENSBURG -- Senior Courtney Brooks scored a game-high 21 points but it wouldn't be enough as Shippensburg staged a second half rally to record a 59-50 PSAC East win at Heiges Field House Saturday afternoon.
Mansfield was impressive in the first half. The Mountaineers opened the game with a 12-2 run in the first five minutes of the game with eight of those points coming from Brooks. Shippensburg closed the gap and took a 15-14 lead with seven minutes before intermission before Mansfield mounted a 12-7 run to take a 26-22 advantage into halftime.
Mansfield (5-16, 1-7 PSAC East) maintained the lead for the first six minutes of the second half before Shippensburg took a 33-32 advantage on a layup by Lauren Beckley.
Mansfield tied the game at 34-34 minutes later on a free throw by Clarissa Correll but the Mountaineers were held scoreless for the next six minutes while Shippensburg went on a 13-0 run taking an insurmountable 47-34 lead with 4:01 to play.
Shippensburg (11-10, 5-3 PSAC East) controlled the boards in the second half out rebounding Mansfield 26-14 over the final 20 minutes of the game.
Brooks had an exceptional game, tying her career high for points while hitting a career best five 3-pointers while recording seven steals. Fellow senior Clarissa Correll added 11 points with three steals.
Kasey Gardner led Shippensburg with 20 points while Beckley added 19 points and pulled down a game-high 18 rebounds.
Mansfield host Kutztown this Wednesday at Decker Gymnasium.