RELEASE DATE: 1/14/09
FOR IMMEDIATE RELEASE: Mansfield women hang tough in 80-69 loss to Shippensburg in conference opener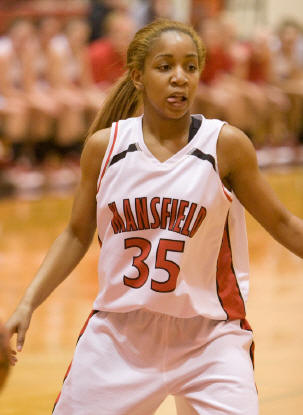 MANSFIELD – Nicole Pender scored 18 points and Alicia Espigh added 16 but Lauren Beckley scored a game-high 31 points and pulled down 13 rebounds to rally Shippensburg to a 80-69 win over Mansfield in the opening game of the women's PSAC East basketball season for both teams.
Shippensburg jumped out to a 19-9 lead in the first five minutes of the game hitting five of their first six shots but Mansfield didn't fold.
The Mountaineers chipped away at the lead, tying the game at 37-37 on a 3-pointer by Morgan Hafer with just over two minutes to play in the first half before trailing 41-39 at halftime.
The second half remained tight with the scored tied 55-55 on a layup by Mallory Moore with just over 11 minutes left in the game. But Shippensburg proved too tough over the final seven minutes to pull out the win.
The 18 points were a season-high for Pender and Espigh edged to within 14 points of becoming Mansfield's 13th 1,000 point scorer in school history. Senior Courtney Brooks came off the bench to scored nine points while Moore scored eight points and pulled down 11 rebounds.
Kasey Gardner had 21 points for Shippensburg.
Mansfield travels to Cheyney this Saturday.