RELEASE DATE: 12/05/08
FOR IMMEDIATE RELEASE: Cold shooting Mountie women fall to Point Park in opening round of Houghton Classic 61-51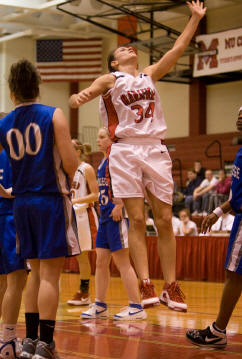 HOUGHTON,NY – Senior Clarissa Correll scored 15 points but it wouldn't be enough to offset a cold-shooting night for Mountaineers as Mansfield dropped a 61-51 decision to Point Park in the opening round of the Houghton College Classic Friday evening.
Mansfield shot just 27% from the floor (17-63) and 22% on 3-point attempts (8-36) in falling to 2-2 on the season.
The Mountaineers trailed 35-20 at halftime and cut the lead to eight midway through the second half but couldn't pull themselves out of the first half hole.
Correll was the only Mountaineer in double figures with Courtney Brooks adding eight points and freshman Mallory Moore seven. Moore also pulled down 12 rebounds.
Mansfield will play host Houghton College tomorrow evening.
(box score unavailable)