RELEASE DATE: 11/11/08
FOR IMMEDIATE RELEASE: Mansfield women open 2008-09 season against C.W. Post at Bloomsburg on Saturday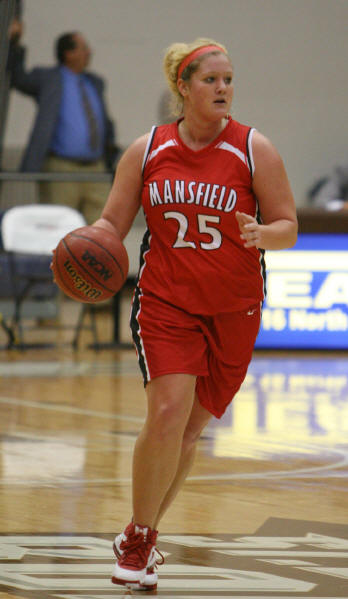 MANSFIELD – The Mansfield University women's basketball team will open its 2008-09 season when they take on C.W. Post in the first round of the Bloomsburg Classic Saturday evening. Tip-off is set for 8 p.m.
The Mountaineers will then play Chestnut Hill College on Sunday at 6 p.m.
It seems you're either young or old on head coach Ruth Hermansen's roster which features five veteran seniors but eight freshmen along with one junior and one sophomore.
The Mountaineers are looking to rebound from last year's injury-plagued season with a return trip to the PSAC playoffs after earning berths in the 2006 and 2007 campaigns.
Mansfield struggled offensively last season and will be looking to outside scorers, at least early in the season. The good news is that the top two scorers, and three of the top five, return for 2008-09.
Senior Alicia Espigh led the PSAC in 3-point field goals last season with 63 while averaging 14.0 points per game. The sharp shooting guard was also one of the top free throws shooters in the conference and can be a game changer when she's hot.
Fellow senior Clarissa Correll also returns at guard where she started 26 games last season, averaging 11.0 points per game. A slashing, penetrating guard, Correll dished out a team best 107 assists last year and recorded 49 steals.
Senior Courtney Brooks will be a four year starter at guard where she averaged 8.0 points per game last season. The lighting-quick Brooks also led the team with 50 steals and dished out 57 assists. She is a tough matchup for any defense.
Junior Mallory Hafer played in just one game before suffering a season ending injury last year but has worked hard to return to the court. Hafer was the leading 3-point shooter in the PSAC as a sophomore when she averaged 11.5 points per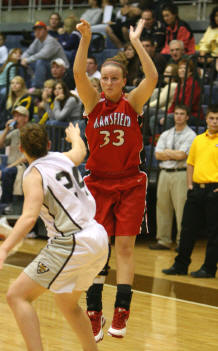 game.
Hafer's twin younger sisters, freshmen Meredith and Morgan, are both skilled guards who are expected to see action this year as well. Red-shirt freshman Nicole Pender had a solid preseason and should also be in the mix of things while freshmen Emma Lacey and Chelsea Tracy will provide backup.
The frontcourt also has a mix of rookies and veterans.
Senior twins Emily and Katie Akins are veterans underneath with Emily starting 24 times in the frontcourt where she averaged 4.1 points and 2.8 rebounds per game last season. Katie appeared in 25 games scoring 44 points and pulling down 42 rebounds.
Sophomore Tegan Atallah is also back at forward after playing in 25 games as a freshman. Tegan returns as one of the leading field goal finishers on the squad.
Freshmen Mallory Moore and Katie McBroom have been impressive in preseason and will vie for starting spots after stellar high school careers.
Freshman Rebecca Pollack will provide backup.
Mansfield will host Penn College on Dec. 1 in their only home game of the fall semester before traveling to the University of Alaska – Anchorage later in the month.