RELEASE DATE: 2/16/09
FOR IMMEDIATE RELEASE: Mansfield's Mallory Moore named PSAC East Freshman of the Week for the second time this season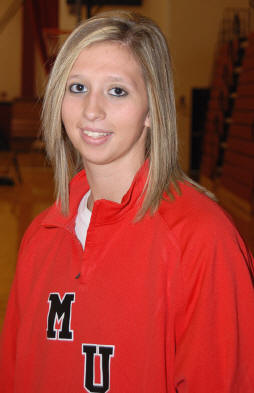 MANSFIELD – Mansfield University standout Mallory Moore (Beech Creek/Central Mountain) has been named the Pennsylvania State Athletic Conference (PSAC) East Freshman of the week for her outstanding performance during the week ending 2/15/09.
It marks the second time this season Moore has earned PSAC East Freshman of the Week honors.
Moore led the Mountaineers to a 2-0 week with upset wins over Kutztown and Cheyney. The freshman forward averaged 18.5 points and 5.0 rebounds per game. She connected on 57% (12-21) from the floor and 92% (12-13) from the free throw line. In addition, Moore recorded four assists, four steals and blocked two shots.
Moore led the Mountaineers in scoring in both wins with 13 points against Kutztown and a game and season-high 24 points against Cheyney. In the win over Cheyney, Moore was 8-11 from the floor and 8-9 from the free throw line with a team-high six rebounds, three steals, two blocked shots and two assists.
Moore is leading the team in scoring (10.5 ppg) and rebounding (6.5 rpg) so far this season.
It marked the first time in two years Mansfield had won back-to-back conference games. The Mountaineers have now won three of their last four PSAC East games after winning just one in 2007-08.
###