RELEASE DATE: 1/31/09
FOR IMMEDIATE RELEASE: Mansfield women fall 58-26 at Millersville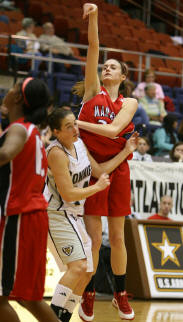 MILLERSVILLE – Mansfield never got its offense untracked in a 58-26 loss at Millersville ina PSAC East women's basketball game Saturday afternoon.
Mansfield missed its first 14 shots in the game and the Mountaineers were held scoreless for almost the first nine minutes of the contest before freshman Rebecca Pollack hit two free throws at the 11:13 mark of the first half.
Mansfield shot just 15% from the floor in the first half and trailed 27-12 at halftime.
The 26 points were the fewest scored by a Mansfield team in a game since the modern-day program was started in 1976.
Teagan Atallah connected on all four of her shots from the floor to lead Mansfield in scoring with eight points.
Ashley Moyer led Millersville (15-4, 4-2) with 11 points.
Mansfield will host Bloomsburg on Wednesday evening.