RELEASE DATE: 10/30/08
FOR IMMEDIATE RELEASE: Mansfield women picked to finish eighth in PSAC East in preseason coaches poll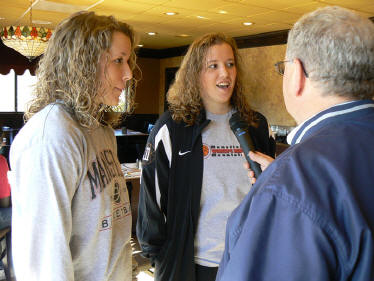 MANSFIELD – The Mansfield University women's basketball team was picked to finish eighth by the coaches in the PSAC East this year.
The PSAC East and West Preseason Coaches Poll were released today as part of the 2008-09 Pennsylvania State Athletic Conference Basketball Media Day.
Mansfield held its media day at Lamb's Creek Food and Spirits with WENY-TV36, WETM-TV18, WELM radio, the Star-Gazette and Towanda Review in attendance.
The PSAC has expanded to 16 teams this season with the addition of Gannon and Mercyhurst who will compete in the PSAC West. Shippensburg will move from the West to the PSAC East.
Mansfield is coming off an injury-riddled 6-21 overall record last season and seventh place finish in the PSAC East. Head coach Ruth Hermansen returns four starters from last season and five senors including Emily and Katie Akins, Courtney Brooks, Clarissa Correll, and Alicia Espigh.
"We've surprised people before and I think we will again this year," said Hermansen. "We have a tough schedule but a solid mix of five seniors and seven newcomers so we expect to become better as the season progresses.
The Mountaineers travel to St. Bonaventure on Nov. 7 for an exhibition game before participating in the Bloomsburg Classic on Nov. 15-16. They play their only home game of the first semester on Dec. 4 against Penn College and travel to the University of Alaska-Anchorage for a two-game series in mid-December.
PSAC Women's Basketball 2008-09 Preseason Coaches Poll
PSAC East
Shippensburg
Millersville
West Chester
Kutztown
East Stroudsburg
Bloomsburg
Cheyney
Mansfield
PSAC West
IUP
California
Gannon
Edinboro
Mercyhurst
Clarion
Lock Haven
Slippery Rock