RELEASE DATE: 1/04/09
FOR IMMEDIATE RELEASE: Espigh and Moore combine for 46 points to lead Mansfield to 73-65 win over Lock Haven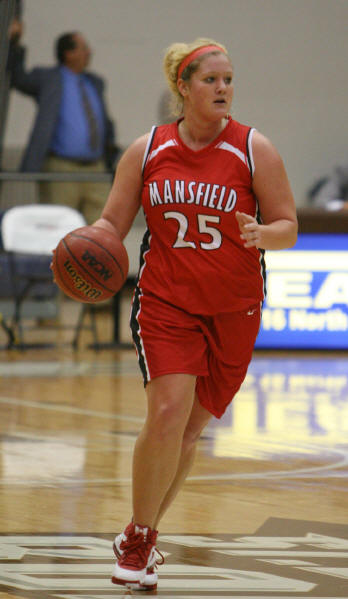 LOCK HAVEN – Senior Alicia Espigh and freshman Mallory Moore combined for 46 points, 24 of them in the second half, to lead Mansfield to a 73-65 win over Lock Haven in a PSAC crossover game Sunday afternoon at Thomas Fieldhouse.
Mansfield (4-6) took a 17-7 lead seven minutes into the game on a 3-pointer by Espigh but Lock Haven rallied over the final 12 minutes of the half to take a 37-34 halftime advantage.
Lock Haven (3-8) extended the lead to 43-36 in the first two minutes of the second half held a 53-46 advantage at the 11:37 mark before Mansfield rallied with a 14-0 run, taking a 60-53 lead on a pair of free throws by Clarissa Correll with 6:21 to play.
Lock Haven pulled to 63-61 on a layup by Lauren Kelshaw with just under four minutes to play but jumpers by Correll and Mallory Hafer along with a pair of free throws by Nicole Pender over the next two minutes put the game out of reach.
The win snapped a four losing streak for the Mountaineers and ends a seven game road trip that covered more than 5,000 miles. Mansfield connected on 28-42 free throws to 8-13 for Lock Haven and out rebounded the Bald Eagles 39-34.
Espigh and Moore we almost flawless in the game with Espigh connecting on 6-10 three-point attempts and a perfect 7-7 from the free throw line in scoring a season-high 25 points and pulling down seven rebounds. She also had two steals and an assist with no turnovers.
Moore scored a career-high 21 points and recorded her first collegiate double-double with a game-high 12 rebounds. She hit 6-7 from the floor and 8-13 of her free throws. Pender added 13 points, including nine free throws.
Lock Haven had four players in double figures led by Peaches Nesmith with 16 points and Casi Donelan with 12 points. Sharay Hall recorded a double-double with 11 points and 12 rebounds.
Mansfield will return home for the first time since Dec. 1 when they host the University of the District of Columbia Wednesday afternoon at 3 p.m.