RELEASE DATE: 02/11/09
FOR IMMEDIATE RELEASE: Mountie women hold on down the stretch for 59-56 win over Kutztown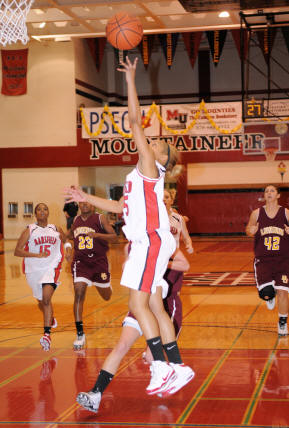 MANSFIELD – Senior Courtney Brooks hit two free throws with 17 seconds left to help Mansfield hold on for a 59-56 win over Kutztown in a PSAC East women's basketball game Wednesday night at Decker Gym.
With less than one minute left in play, Kutztown had closed Mansfield's lead to one point off of a lay-up followed by a good free throw from Chauntelle Schroeder.
Brooks was fouled and hit both free throws to give Mansfield a three point lead and the Mountaineers were able to hold on to earn the second conference win of the season.
Nicole Pender opened the night off with a lay-up just 15 seconds into the game to give Mansfield the lead and the Mountaineers held the lead for almost the entire first half taking a 34-24 lead into intermission.
Mansfield extended the lead 49-39 on a lay-up by Morgan Hafer with six minutes to play play before Kutztown rallied to cut the lead to 57-56 with just over a minute remaining.
Mansfield was led by Mallory Moore and Alicia Espigh who each scored 13 points. Pender scored nine points and also had the game-high seven steals
Kutztown (16-6, 6-3 PSAC East) was led by Rachel Wisemiller with 18 points and Melissa McQuade with 11. Schroeder led the game with 11 rebounds and also received credit with a double-double as she scored 10 points.
Mansfield (6-16, 2-7 PSAC East) hosts Cheyney University as they pay honor to seniors, Katie Akins, Emily Akins, Clarissa Correll, Brooks, and Espigh this Saturday for a 1 p.m. game.