RELEASE DATE: 1/21/09
FOR IMMEDIATE RELEASE: Mountie women's upset bid falls short in final seconds of 59-61 loss at Kutztown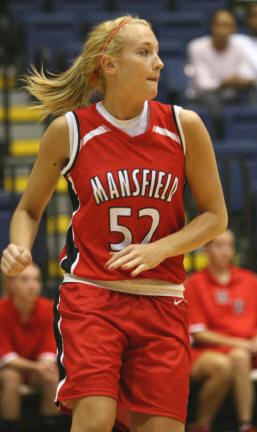 KUTZTOWN – Vivian Melvin hit a layup with seven seconds to play to lift Kutztown to a 61-59 win over upset–minded Mansfield in a PSAC East women's basketball game Wednesday night at Keystone Hall.
It was a spirited effort for the Mountaineers on the road against PSAC East leading Kutztown.
Mansfield held Kutztown to just eight points in the first 13 minutes of the game before taking a 28-19 lead at halftime behind freshman Rebecca Pollack who scored nine of her 11 points in the first half.
Kutztown rallied early in the second half using a 19-7 run over the first seven minutes to take a 38-35 lead with 13:08 to play.
The two teams would battle back and forth for the rest of the game with nine lead changes and six ties in the second half.
The score was tied at 53-53 with just over five minutes to play when freshman Chelsea Tracy hit a 3-pointer to put Mansfield in the lead. The Mountaineers increased the lead to 59-54 on a Nicole Pender layup with 2:37 to go but Kutztown rallied to tie the game 59-59 with 1:08 remaining.
Mansfield missed a shot and Kutztown missed two shots in the final minute before Melvin hit the game winner.
Mansfield had one final chance but turned the ball over with two seconds left in the game.
Senior Courtney Brooks scored 11 points for Mansfield along with Pollack who also pulled down eight rebounds.
Rachel Wisemiller led three Kutztown players in double figures with a game-high 18 points. Melissa McQuade recorded a double-double with 16 points and 16 rebounds.
Kutztown improves to 13-3 overall and remains in first place in the PSAC East with a 3-0 mark. Mansfield falls to 4-12 overall and 0-3 in the PSAC East.
The Mountaineers will host West Chester this Saturday.