RELEASE DATE: 10/15/08
FOR IMMEDIATE RELEASE: Mountie women's basketball team holds first practice of 2008-09 season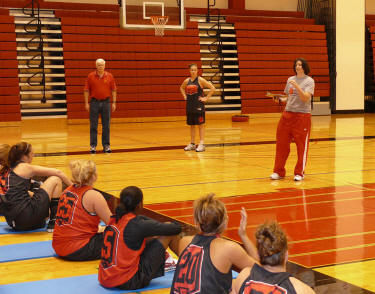 MANSFIELD – The Mansfield University women's basketball team officially started the 2008-09 season with their first practice of the year this afternoon in Decker Gymnasium.
Head coach Ruth Hermansen returns seven players from last season including five seniors, four of whom started sometime during the 2007-08 campaign.
Even with seniors Emily Akins, Katie Akins, Courtney Brooks, Clarissa Correll and Alicia Espigh, the team will be young in 2008-09 with seven freshmen and two sophomores.
"I still get excited about the first day of practice," said Hermansen who enters her 10th season at the helm of the Mountaineer program. "We had a very good preseason conditioning program and we're all expecting it to pay big dividends during the regular season."
The team has just three weeks to get ready for an exhibition game at St. Bonaventure on Nov. 7 before opening the season at the Bloomsburg Classic against CW Post on Nov. 15. Mansfield will also travel to the University of Alaska-Anchorage for a pair of games in mid-December.