RELEASE DATE: 11/07/08
FOR IMMEDIATE RELEASE: Mansfield women fall in exhibition game at St. Bonaventure 75-46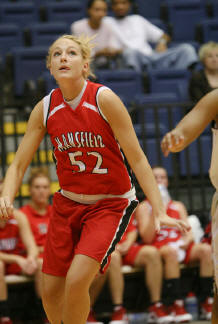 OLEAN, NY – Senior Courtney Brooks (Harrisburg/Susquehanna Township) led Mansfield in scoring with 11 points in a 75-46 loss to NCAA Division I St. Bonaventure Friday afternoon in the Reilly Center in Olean.
A senior laden St. Bonaventure team scored the game's first 11 points but Mansfield settled down to play well despite missing two starters.
Mansfield trailed 43-26 at halftime but cut the lead to 50-37 after the first six minutes of the second half.
Freshman Mallory Moore (Beech Creek/Central Mountain) had an impressive game just missing a double-double with nine points and game-high 11 rebounds. Sophomore Teagan Atallah (Reading, MA/ Reading Memorial) also scored nine points while freshman Nicole Pender (Elkins Park/ Cheltenham) added eight.
Dana Mitchell led St. Bonaventure with 21 points while Katelyn Murray added 13 points.
Mansfield will open the 2008-09 season Saturday, Nov. 15 when the take on C.W. Post at the Bloomsburg Classic.