RELEASE DATE: 2/18/09
FOR IMMEDIATE RELEASE: Mansfield women fall 64-47 at East Stroudsburg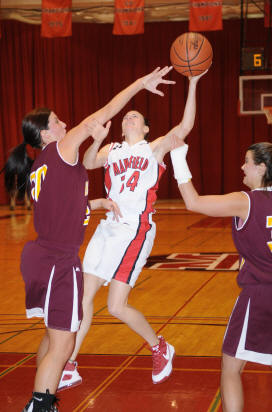 EAST STROUDSBURG – Freshman Mallory Moore recorded a double-double with 14 points and 14 rebounds but it wouldn't be enough to overcome a team 29% shooting percentage as Mansfield dropped a 64-47 decision in a PSAC East game at East Stroudsburg Wednesday night.
Mansfield (7-17, 3-8 PSAC East) scored the game's first basket and held a 7-4 lead four minutes into the game on a Clarissa Correll 3-pointer but it would be the last lead the Mountaineers would have on the evening.
East Stroudsburg (12-12, 5-6 PSAC East) took a 34-19 lead at halftime and Mansfield was able to close the gap to 34-25 in the first two minutes of the second half but would pull no closer.
Moore recorded her third double-double of the season while her 14 rebounds were a season-high. Correll added 11 points for Mansfield. Nicole Pender scored eight points and had five steals.
Jackie Yandrisevits scored a game-high 17 points while DeAnna Rayam added 10 points.
The loss snapped a two-game winning streak for the Mountaineers who travel to West Chester this Saturday.