RELEASE DATE: 1/29/09
FOR IMMEDIATE RELEASE: Mountie women drop last-second heartbreaker to East Stroudsburg 49-47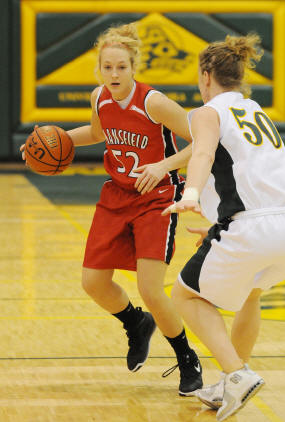 MANSFIELD – Jackie Yandrisevits put back an offensive rebound with three seconds left in the game to lift East Stroudsburg to a 49-47 win over Mansfield in a PSAC East women's basketball game Thursday night at Decker Gymnasium.
It was a heartbreaking loss for Mansfield which fought back from a six-point deficit in the final three minutes of the game tying the contest 47-47 on a jumper by Mallory Moore with 29 seconds to play.
East Stroudsburg (9-9, 2-3 PSAC East) held Mansfield scoreless early taking a 9-0 lead after the first four minutes of play. Mansfield came roaring back taking a 12-11 lead on a layup by freshman Rebecca Pollack.
Mansfield held on for a 24-23 lead at halftime and extended the lead to 31-26 on a jumper by Nicole Pender three minutes into the second half.
But East Stroudsburg would rally going up 45-39 late in the game before Mansfield went on a 8-2 run to tie the game on Moore's jumper.
Pender had an outstanding game for Mansfield. The freshman guard scored a game-high 16 points while pulling down seven rebounds and dishing out a game-best four assists. Clarissa Correll added nine points with Courtney Brooks and Pollack each scoring seven points.
Yandrisevits topped three ESU players in double figures with 15 points along with a game-high 12 rebounds.
It marked the second two-point loss for Mansfield (4-14, 0-5 PSAC East) in the last three games.
Mansfield travels to Millersville this Saturday.