RELEASE DATE: 1/10/09
FOR IMMEDIATE RELEASE: Clarion women hold off Mansfield 71-59 – MU's Mallory Moore scores 19 points in losing effort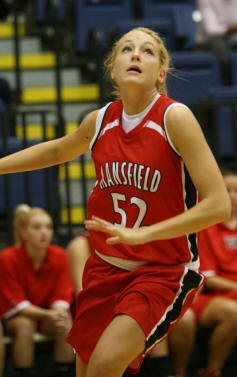 MANSFIELD – Freshman Mallory Moore scored 19 points, including 17 in the second half but it couldn't overcome a 24 point effort by Clarion's Katrina Greer as Mansfield dropped a 71-59 decision to Clarion in a PSAC crossover game Saturday afternoon at Decker Gymnasium.
Clarion (4-8) lead early but Mansfield took a 21-19 lead on a jumper by freshman Meredith Hafer with 5:53 remaining in the first half. Clarion outscored Mansfield 10-5 over the final five minutes of the half to take a 31-26 lead into the locker room.
Clarion went on a 10-3 run over the first six minutes of the second half to build a 41-29 lead and held a double digit lead until just over seven minutes to play when Moore hit a jumper to cut the lead to 54-45. Mansfield closed the gap to 62-57 on another jumper by Moore with 2:01 to play but Clarion hit six straight free throws and held Mansfield to two points to hold on for the win.
Clarion shot 40% from the floor to Mansfield's 30% and out rebounded the Mountaineers 52-32.
Moore was the only Mansfield player in double figures with fellow freshman Rebecca Pollak scoring a season best eight points. Clarissa Correll, Nicole Pender and Courtney Brooks each added seven points.
Greer had a double-double for Clarion with 11 rebounds to go along with her game-high 24, 17 of them coming in the first half.
Mansfield fell to 4-7 overall and hosts Gannon Sunday afternoon at 1 p.m. in Decker Gymnasium.