RELEASE DATE: 1/16/09
FOR IMMEDIATE RELEASE: Alicia Espigh becomes Mansfield's 13th 1,000 point scorer in 65-49 setback at Cheyney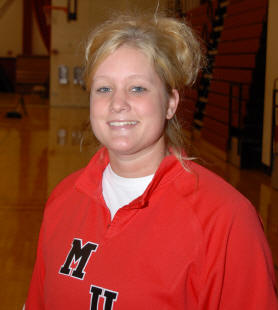 CHEYNEY – Senior Alicia Espigh (Lewistown/Lewistown) scored 15 points to become just the 13th player in Mansfield women's basketball history to reach the 1,000 point milestone but it wouldn't be enough in a 65-49 loss at Cheyney in a PSAC East contest Saturday afternoon.
Espigh, who needed 14 points coming into the game to reach the career milestone, scored her 1,000 and 1,001 career points on a layup with 11 seconds left in the game. She had nine points in the first half.
Mansfield led for the first five minutes of the game before Cheyney rallied to take a 41-28 advantage at halftime. Mansfield, which shot just 25% from the floor in the game, hit a frigid 10% (3-29) in the second half.
Freshman Mallory Moore (Beech Creek/Central Mountain) recorded her second collegiate double-double with 15 points and 12 rebounds. She also recorded three steals.
Angel Stephens led Cheyney (7-4, 2-0) with 20 points while also pulling down 10 rebounds. Latfiyya Muhammad added 15 points.
Mansfield falls to 4-11 overall and 0-2 in the PSAC East. The Mountaineers travel to Kutztown this Wednesday evening.
Mansfield University Women's Basketball career 1,000 point scorers.
| | | |
| --- | --- | --- |
| Alison Tagliaferri | 1795 | 2001-06 |
| Paula Oleksy | 1378 | 1983-86 |
| Donna Kukura | 1289 | 1980-83 |
| Jessica Ulhrich | 1241 | 2003-07 |
| Allyson Buss | 1174 | 1999-03 |
| Kathy Murphy | 1166 | 1992-95 |
| Glenda Oswald | 1118 | 1989-92 |
| Lynelle Mosley | 1110 | 2000-03 |
| Beth Guiliani | 1084 | 1991-94 |
| Deb Schneider | 1066 | 1983-86 |
| Stephanie Rieser | 1026 | 2001-05 |
| Jessica Pfeiffer | 1011 | 2000-04 |
| Alicia Espigh | 1001 | 2005-09 |