RELEASE DATE: 11/15/08
FOR IMMEDIATE RELEASE: Mountie Women Fall in Season Opener to C.W. Post 71-56 at Bloomsburg University Classic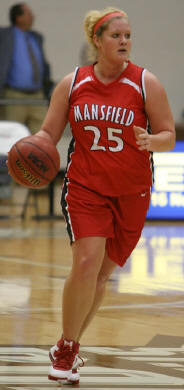 Freshman, Mallory Moore scored 15 total points Saturday night, though would not be enough as the women Mountaineers dropped their 2008-09 season-opener against C.W. Post.
With Mansfield only having the upper-hand in just two separate occasions, the women finished the first half off trailing by six points in their 28-22 first half. C.W. Post pulled away in the second half with two points of the game having a 16-point lead over the Mountaineers.
Along with Moore's 15 points, seniors Courtney Brooks scored 10 total points and Alicia Espigh having eight. Moore also led the team in rebounds with six.
Mansfield plays Chestnut Hill tomorrow to finish off the Bloomsburg Classic at 6 pm.