RELEASE DATE: 02/04/09
FOR IMMEDIATE RELEASE: Mountaineer women defeat Bloomsburg and end six-game losing streak in PSAC play 52-46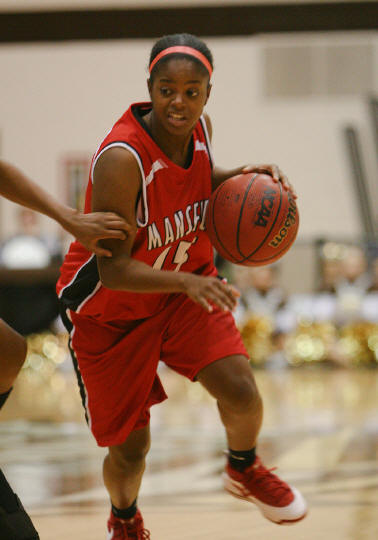 MANSFIELD – Courtney Brooks dominated the game as she scored the game's high scorer with 16 points as the women Mountaineers defeat Bloomsburg in conference play Wednesday night at Decker Gymnasium.
The Mountaineers got things rolling with a layup by Clarissa Correll in the 18th minute of play. Bloomsburg responded with a layup of their own from Emily Brown just half a minute later to tie the game. Mansfield broke that tie with a three pointer by Brooks and they never looked back.
The Mountaineers allowed the Huskies to tie them only that once in the second half. Mansfield's lead was steady throughout the first half only leading the women from Bloomsburg by no more than four to six points.
At the beginning of the twelfth minute of play, Alicia Espigh stole the ball from Steph Rankin and went in for the layup to start Mansfield's 7-2 run to give the Mountaineers their highest lead in the first half of 11 points.
With shooting 34.5% on field goals, 25.0% on three pointers and 40.0% from the free throw line, Mansfield held Bloomsburg to 24.0%, 11.1% and 66.7% on field goals, three pointers and free throws as they ended the half winning 24-17.
Bloomsburg opened up the second half with a layup from Colleen Kegerreis. Mansfield responded with a jump shot by Rebecca Pollack. Pollack's jumper opened the game up for Mallory Moore to score a layup after stealing the ball from Emily Brown.
The two then did a repeat as Pollack hit another jumper and Moore hit another layup to give Mansfield their highest lead of the entire game of 13 points.
Bloomsburg tied and then led the game with only 4:44 left in the game with two made free throws from Kegerreis.
Mansfield retook the lead with a three pointer by Brooks with two minutes left and went on a 12-5 run to win the game 52-46.
Mansfield's top scorer were Brooks with 16 points, 4-4 on the free throw line, a game high seven steals and game high four assists.
Moore, Pollack and Correll each added eight points. Moore and Pollack shared the team's high rebounds with five apiece. Pollack also had the team high two blocks which also tied for the game high.
Bloomsburg's Kegerreis also had two blocks while having the game high 13 rebounds. Bloomsburg's top scorer was Kelsey Gallagher with 12 points.
Mansfield travels to Shippensburg University on Saturday for their 1 p.m. game hoping to add to their 5-15 overall and 1-6 PSAC record.