RELEASE DATE: 12/14/08
FOR IMMEDIATE RELEASE: Mansfield drops 80-45 decision to #4 Alaska-Anchorage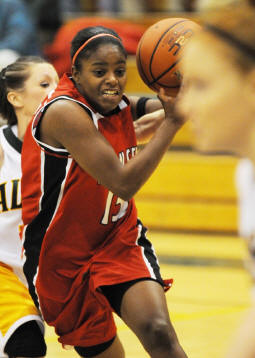 ANCHORAGE, AK – Senior Courtney Brooks hit a 3-pointer to open the game and would score a team-high nine points but Mansfield was never able to get untracked offensively in dropping a 80-45 decision at #4 Alaska-Anchorage Sunday night at the Wells Fargo Sports Complex.
Mansfield (3-3) shot an ice-cold 24% in the first half and trailed 40-17 at intermission.
Alaska-Anchorage, ranked #4 in the latest NCAA Division II top 25 poll, hit a season-best 54.1% of their shots in the game to improve to 8-1 overall. The taller SeaWolves also owned a 43-21 rebounding advantage.
Brooks also pulled down a team-high eight rebounds and had three steals in the game. Senior Clarissa Correll scored seven points, all in the first half, with fellow senior Alicia Espigh also adding seven points all in the second half.
Nicci Miller led three SeaWolves in double figures with a game-high 14 points.
Both teams will meet again on Monday night starting at 7 p.m. (11 p.m. EDT).
(photo's courtesy of Michael Dinneen / Alaska Anchorage Athletics)