RELEASE DATE: 12/15/08
FOR IMMEDIATE RELEASE: Mountie women fall 89-43 at #4 Alaska-Anchorage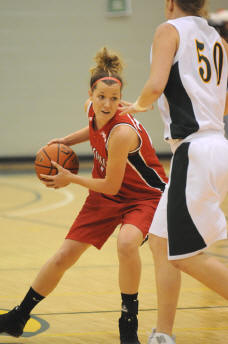 MANSFIELD -- Courtney Brooks scored a team-high 11 points and Mallory Moore added eight points and six rebounds but Mansfield couldn't overcome a cold-shooting night in a 89-43 loss to #4 University of Alaska Monday night at the Wells Fargo Sports Complex.
The two teams were tied 5-5 on a 3-pointer by Brooks three minutes into the game but Alaska-Anchorage went on a 27-4 run over the next 10 minutes to put the game out of reach.
Mansfield was ice-cold in the first half hitting just 4-of-24 attempts from the floor and connected on 21.8% (8-31) for the game.
Nicci Miller led four SeaWolves in double figures and recorded a double-double with 16 points and 10 rebounds.
Mansfield will travel to UDC on Saturday.
Official Basketball Box Score
---
Official Basketball Box Score
Mansfield vs Alaska Anchorage
12/15/08 7 pm at Wells Fargo Sports Complex-Anchorage, AK

--------------------------------------------------------------------------------
VISITORS: Mansfield 3-4
                          TOT-FG  3-PT         REBOUNDS
## Player Name            FG-FGA FG-FGA FT-FTA OF DE TOT PF  TP  A TO BLK S MIN
10 Moore,Mallory....... f  2-7    0-2    4-5    1  5  6   2   8  2  4  0  2  23
32 Atallah,Tegan....... f  2-4    1-2    0-0    0  0  0   0   5  0  2  1  0  12
15 Brooks,Courtney..... g  3-12   2-5    3-4    1  3  4   1  11  2  3  0  2  31
22 Hafer,Meredith...... g  1-3    0-2    0-0    1  2  3   0   2  0  2  0  1  17
34 Correll,Clarissa.... g  0-2    0-1    4-8    1  0  1   3   4  3  2  0  2  25
04 Tracy,Chelsea.......    0-0    0-0    0-0    0  0  0   1   0  0  2  0  0   7
11 Akins,Katie.........    0-0    0-0    2-2    0  0  0   0   2  1  1  0  0   6
20 Lacey,Emma..........    0-3    0-1    0-0    1  0  1   0   0  0  1  0  1   5
21 Hafer,Morgan........    1-4    0-1    0-0    1  0  1   1   2  0  0  0  0  11
24 Akins,Emily.........    0-2    0-1    0-0    0  0  0   1   0  0  1  0  0   6
25 Espigh,Alicia.......    1-5    0-2    0-0    0  0  0   0   2  0  0  1  0  11
35 Pender,Nicole.......    0-2    0-1    2-4    0  1  1   3   2  0  3  0  0  15
45 McBroom,Katie.......    1-7    1-1    0-0    3  0  3   2   3  2  1  0  0  15
52 Pollack,Rebecca.....    1-4    0-0    0-1    1  5  6   0   2  0  1  0  0  16
   TEAM................                         3  2  5             1
   Totals..............   12-55   4-19  15-24  13 18 31  14  43 10 24  2  8 200

TOTAL FG% 1st Half:  4-24 16.7%   2nd Half:  8-31 25.8%   Game: 21.8%  DEADB
3-Pt. FG% 1st Half:  1-8  12.5%   2nd Half:  3-11 27.3%   Game: 21.1%   REBS
F Throw % 1st Half:  7-12 58.3%   2nd Half:  8-12 66.7%   Game: 62.5%   4,2


--------------------------------------------------------------------------------
HOME TEAM: Alaska Anchorage 9-1
                          TOT-FG  3-PT         REBOUNDS
## Player Name            FG-FGA FG-FGA FT-FTA OF DE TOT PF  TP  A TO BLK S MIN
00 Miller,Nicci........ f  6-11   1-2    3-5    3  7 10   2  16  3  2  0  3  20
13 Basova,Dasha........ f  5-12   2-6    2-2    4  2  6   2  14  2  1  1  1  16
54 Kielpinski,Rebecca.. c  1-2    0-0    2-2    2  5  7   0   4  1  3  2  1  23
03 Harris,Elisha....... g  4-9    1-3    0-0    2  3  5   2   9  3  2  0  2  16
10 Taylor,Kiki......... g  0-1    0-0    0-0    0  1  1   3   0  4  1  0  1  11
02 Collins,Brittany....    0-0    0-0    0-0    0  0  0   1   0  0  0  0  0   7
11 Thiel,Jackie........    3-5    3-5    0-0    0  1  1   0   9  2  2  1  2  19
14 Gruwell,Tamar.......    5-10   2-6    2-2    0  4  4   1  14  6  1  0  4  25
21 Burnett,Tristan.....    3-4    1-2    1-2    0  1  1   2   8  3  2  0  3  14
24 Dekel,Danielle......    1-2    1-2    0-0    2  1  3   1   3  0  4  1  0   7
25 Aden,Nikki..........    1-4    0-1    0-0    0  3  3   4   2  0  2  0  0  11
33 Wohlers,Viki........    0-0    0-0    0-2    0  3  3   3   0  1  1  0  0  15
50 Johansson,Hanna.....    5-8    0-0    0-0    0  3  3   2  10  0  1  1  2  16
   TEAM................                         3  1  4
   Totals..............   34-68  11-27  10-15  16 35 51  23  89 25 22  6 19 200

TOTAL FG% 1st Half: 16-33 48.5%   2nd Half: 18-35 51.4%   Game: 50.0%  DEADB
3-Pt. FG% 1st Half:  7-18 38.9%   2nd Half:  4-9  44.4%   Game: 40.7%   REBS
F Throw % 1st Half:  8-9  88.9%   2nd Half:  2-6  33.3%   Game: 66.7%    3


--------------------------------------------------------------------------------
Officials: Allegra Butler, Mike Nauman, Dan Vanning
Technical fouls: Mansfield-Pender,Nicole. Alaska Anchorage-None.
Attendance: 327
Score by Periods                1st  2nd   Total
Mansfield.....................   16   27  -   43
Alaska Anchorage..............   47   42  -   89
UAA ranked #4 NCAA Div. II