RELEASE DATE: 12/12/08
FOR IMMEDIATE RELEASE: Mansfield women travel to #4 University of Alaska-Anchorage for two games this Sunday and Monday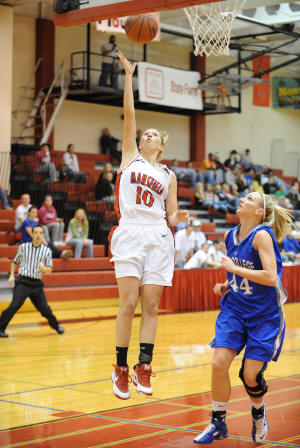 MANSFIELD – The Mansfield University women's basketball team will make the longest trip in Mountaineer athletic history when they travel more than 4,000 miles to play the University of Alaska-Anchorage this Sunday and Monday.
"College is more than basketball," said head coach Ruth Hermansen. "But it is really nice when you can combine basketball with a learning experience and that's what this is."
"Not only do we get the chance to compete with an excellent basketball program at a beautiful facility but we also get the chance to visit somewhere none of us have ever been before."
The Mountaineers (3-2) will take on the SeaWolves (7-1) in a 5 p.m. (9 p.m. Eastern Daylight Time) game on Sunday at the Wells Fargo Sports Complex and 7 p.m. (11 p.m. EDT) on Monday.
Mansfield, off for the past week with finals, beat Houghton 77-61 on Dec. 6 and are led by freshman Mallory Moore (11.8 ppg) and seniors Mallory Hafer (9.2 ppg), Clarissa Correll (9.2 ppg), and Courtney Brooks (7.8 ppg).
Alaska-Anchorage is ranked #4 in the latest NCAA Division II top-25 poll and is coming off a two-week layoff after beating NCAA Division I Syracuse 58-57 in the championship game of the Great Alaska Shootout.
The well-balanced SeaWolves attack is paced by senior All-American Rebecca Kielpinski (11.4 ppg, 9.0 rpg).
Mansfield traveled to South Padre Island, TX last season for the South Padre Island Shootout.