RELEASE DATE: 11/13/08
FOR IMMEDIATE RELEASE: Ryan Van Noy named assistant women's basketball coach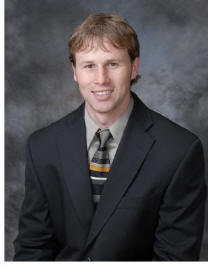 MANSFIELD – Ryan Van Noy has been named the full-time assistant coach for the Mansfield University women's basketball program.
The announcement was made today by women's head coach Ruth Hermansen.
"We're pleased to have Ryan join us as an official member of the staff," Hermansen said. "Everyone associated with Ryan speaks highly of his work ethic and commitment. He's an exceptional person and will be a great benefit to our program."
A native of nearby Troy, Van Noy was a member of the Mansfield University men's basketball team during the program centennial season in 1999-2000.
Van Noy, who returns to Mansfield after serving as the Parks and Recreation Director for Dover Township in the southern part of the state, has assisted the Mountaineer women's basketball program for the past two years as a scouting liaison designing and developing scouting reports of opposing PSAC teams.
Van Noy also served as an assistant women's basketball coach at IUP for two years while earning his masters degree prior to a stint as an assistant coach at Troy High School.
A high school and collegiate student-athlete in his own rite, Van Noy has also been a member of the Northern Tier Bruins semi-professional football team where he was a four-year team captain and was named Offensive Player of the Year.
Van Noy received a BS in exercise science from Bloomsburg University in 2002 and a MS in sport management from IUP in 2004.
He replaces long-time assistant Laurie Bruce who moved to the Erie area and will be with the team when the Mountaineers open the 2008-09 season when they meet C.W. Post on Saturday in the first round of the Bloomsburg Classic.