RELEASE DATE: 2/14/09
FOR IMMEDIATE RELEASE: Mansfield women stun Cheyney behind Mallory Moore's game-high 24 points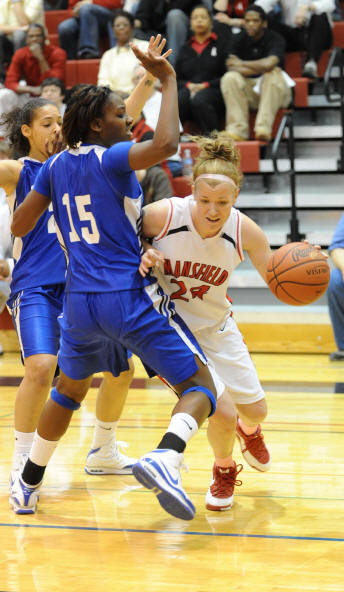 MANSFIELD – Freshman Mallory Moore scored a game-high 24 points to rally Mansfield to an 83-73 upset win over Cheyney in a PSAC East basketball contest Saturday afternoon in Decker Gymnasium.
It also marked Senior Day with seniors Emily Akins, Katie Akins, Courtney Brooks, Clarissa Correll and Alicia Espigh honored prior to the start of the game.
Espigh hit a 3-pointer to score the game's first points but Mansfield would trail by as much as eight points with four minutes remaining in the half before closing the gap to 37-33 at halftime.
Freshman Rebecca Pollack hit a jumper to give Mansfield a 39-37 lead three minutes into the second half and the lead would go back and forth until Moore hit a lay-up and the ensuing free throw giving Mansfield a 50-49 advantage at the 11:06 mark.
The Mountaineers used a 10-2 run over the next three minutes with Moore and Pollack combining for seven of those points to extend the lead to 60-51. Mansfield maintained the lead and increased it to 76-63 on a pair of free throws by Correll with 1:41 to play.
Mansfield shot a season-best 54% from the floor while connecting on 23-28 (82.1%) from the free throw line.
Moore was 8-11 from the floor and 8-9 on free throw attempts while pulling down six rebounds. She also added three steals and blocked two shots. Pollack added 13 points and fellow freshman Nicole Pender scored 11 points with six rebounds, five assists and three steals.
Angel Stephens topped four Cheyney players in double figures with 22 points while Stephanie Orji recorded a double-double with 17 points and 13 rebounds.
Mansfield won its third PSAC East game of the season after winning just one last year. The Mountaineers travel to East Stroudsburg on Wednesday.