Release Date: 2/13/08
For Immediate Release: Strong start to second half pushes Kutztown past Mansfield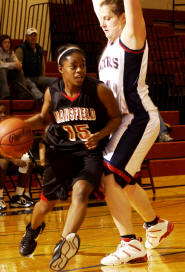 Mansfield- Mercedes Van Wagner recorded a double double with 11 points and 14 rebounds to lead Kutztown to a 63-49 win at Decker Gym Wednesday night in a PSAC East game.
The game was tight throughout the first half as Mansfield took a 17-14 lead with two free throws from Clarissa Correll with seven minutes to go in the game.
Kutztown would take the lead 23-21 on a jumper by Lara Dellegrotti but the Mountaineers tied it with two more free throws by Correll and took the lead with a layup by Alicia Espigh.
The Golden Bears came back with four quick points to end the half with a 27-25 lead.
Kutztown started the second half on a 15-6 run to take a 42-31 lead. The Mountaineers cut the lead to eight on a three-pointer by Tegan Atallah with 11:27 to go in the half. A three-pointer by Dellegrotti gave Kutztown an 11 point lead but a layup by Espigh cut the lead to nine.
The Mountaineers wouldn't get any closer falling to Kutztown 63-49.
Melissa McQuade had 12 points for Kutztown and Dellegrotti added 12 while Katie Dovey also had 12.
Courtney Brooks led Mansfield with 12 points in just her second game back from injury, while Correl had 10 and Atallah had a career high 10 points.
Mansfield will travel to Cheyney on Saturday Feb.16