Release Date: 2/16/08
For Immediate Release: Mansfield women fall to Cheyney 65-54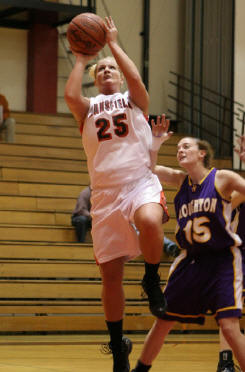 Cheyney- Mansfield couldn't over come a 12 point halftime deficit falling at Cheyney Saturday afternoon 65-54 in a PSAC East contest.
The Mountaineers took the first lead of the game on a layup by Jeannette Meacham but Cheyney came right back and went on a 7-0 run.
Mansfield took a 13-11 lead with 10 minutes to go with a three-pointer by Tegan Atallah. After an Alicia Espigh three-pointer made the score 16-16, Cheyney went on a 12-0 run over a span of minutes.
After halftime, Mansfield cut the 12 point lead in half with an Espigh layup but Cheyney went on an 8-1 run to push the lead to 15.
The lead grew to as big as 19, but the Mountaineers battled back to within seven points with two free throws by Espigh but Mansfield couldn't get any closer falling 65-54.
Cheyney had 10 players score at least two points while Angel Stephens had 10 points.
Espigh had 16 for the Mountaineers while Merissa Gaeta scored a career high 14 points.
Mansfield will travel to West Chester Saturday Feb.23.
Official Basketball Box Score
Mansfield University vs Cheyney
2/16/08 1:00 pm at Cope Hall; Cheyney, PA
--------------------------------------------------------------------------------
VISITORS: Mansfield University 6-18 1-8PSACE
TOT-FG 3-PT REBOUNDS
## Player Name FG-FGA FG-FGA FT-FTA OF DE TOT PF TP A TO BLK S MIN
10 MEACHAM, Jeannette.. * 2-6 0-0 0-2 1 4 5 1 4 0 5 0 0 24
24 AKINS, Emily........ * 1-2 1-1 0-0 0 0 0 1 3 1 1 0 0 11
25 ESPIGH, Alicia...... * 5-12 1-5 5-6 1 7 8 1 16 0 2 0 0 38
34 CORRELL, Clarissa... * 3-7 1-1 1-4 0 1 1 3 8 6 6 1 0 37
35 GAETA, Merissa...... * 6-10 0-1 2-2 1 7 8 2 14 2 3 1 1 34
11 AKINS, Katie........ 1-2 0-0 0-0 0 2 2 1 2 0 0 0 0 8
15 BROOKS, Courtney.... 2-7 0-1 0-1 1 4 5 4 4 4 9 0 6 30
21 EASTMAN, Kelli...... 0-0 0-0 0-0 0 0 0 0 0 0 1 0 0 4
23 REED, Brittany...... 0-0 0-0 0-1 0 0 0 2 0 0 1 0 1 7
32 ATALLAH, Tegan...... 1-1 1-1 0-0 0 1 1 0 3 0 0 0 0 7
TEAM................ 4 3 7 1
Totals.............. 21-47 4-10 8-16 8 29 37 15 54 13 29 2 8 200

TOTAL FG% 1st Half: 9-18 50.0% 2nd Half: 12-29 41.4% Game: 44.7% DEADB
3-Pt. FG% 1st Half: 2-4 50.0% 2nd Half: 2-6 33.3% Game: 40.0% REBS
F Throw % 1st Half: 0-7 0.0% 2nd Half: 8-9 88.9% Game: 50.0% 3

--------------------------------------------------------------------------------
HOME TEAM: Cheyney 10-13 6-3 PSACE
TOT-FG 3-PT REBOUNDS
## Player Name FG-FGA FG-FGA FT-FTA OF DE TOT PF TP A TO BLK S MIN
15 STEPHENS, Angel..... * 5-11 0-0 0-2 5 2 7 3 10 1 1 1 1 24
20 JONES, Danielle..... * 2-6 0-2 2-2 0 0 0 3 6 2 3 0 4 24
21 PENN, Lillian....... * 1-7 0-0 0-0 2 2 4 1 2 0 2 0 1 16
24 BLAKE, Ashley....... * 2-4 0-1 0-2 2 1 3 1 4 4 2 0 1 19
32 ORJI, Stephanie..... * 4-8 1-1 0-2 2 6 8 3 9 0 2 1 5 27
01 TAYLOR, Briana...... 0-1 0-0 0-0 0 1 1 0 0 0 0 0 0 2
03 MUHAMMAD, Lutfiyya.. 4-12 0-0 0-0 1 2 3 3 8 1 3 2 2 16
04 HENDERSON, Angel.... 2-3 0-0 2-2 0 0 0 1 6 2 0 0 2 21
10 ANDERSON, Georgia... 2-3 1-1 2-2 2 3 5 1 7 0 1 1 0 13
11 TAYLOR, Charnelle... 0-0 0-0 0-0 0 0 0 0 0 0 0 0 0 0+
12 MCFADDEN, Tamika.... 0-0 0-0 0-0 0 0 0 0 0 0 0 0 0 0+
22 ASBERRY, Desiree.... 3-4 0-1 1-2 2 1 3 0 7 0 1 0 2 12
23 RANDALL, Martina.... 3-12 0-5 0-0 0 2 2 1 6 2 1 0 0 18
45 TWIGGS, Ebony....... 0-1 0-0 0-0 0 2 2 0 0 0 0 0 0 3
55 MIRANDA, Leslie..... 0-0 0-0 0-0 1 1 2 1 0 0 0 0 0 5
TEAM................ 3 3 1
Totals.............. 28-72 2-11 7-14 20 23 43 18 65 12 17 5 18 200

TOTAL FG% 1st Half: 14-39 35.9% 2nd Half: 14-33 42.4% Game: 38.9% DEADB
3-Pt. FG% 1st Half: 2-9 22.2% 2nd Half: 0-2 0.0% Game: 18.2% REBS
F Throw % 1st Half: 2-4 50.0% 2nd Half: 5-10 50.0% Game: 50.0% 2

--------------------------------------------------------------------------------
Officials:
Technical fouls: Mansfield University-None. Cheyney-None.
Attendance: 229
Score by Periods 1st 2nd Total
Mansfield University.......... 20 34 - 54
Cheyney....................... 32 33 - 65