RELEASE DATE: 1/14/08
FOR IMMEDIATE RELEASE: Mansfield women hoping tough preconference schedule will benefit team when they open PSAC East play at Kutztown Wednesday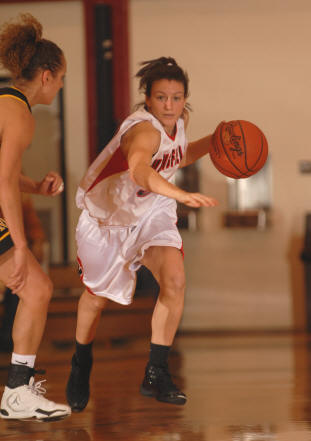 MANSFIELD – The Mansfield University women's basketball team hopes a brutal schedule over the past eight games will lead to success when the Mountaineers open the PSAC East season at Kutztown on Wednesday.
Six of the Mountaineers last eight games have been on the road including two games against nationally ranked programs and Mansfield takes a 5-10 record into conference action.
If the schedule wasn't tough enough, Mansfield is currently without the service of season opening starters Mallory Hafer, Brittany Reed and Courtney Brooks. The Mountaineers hope to have Reed and Brooks return sometime during the PSAC East season, but Hafer is projected to be out for the year.
"It's been a tough run," said head coach Ruth Hermansen. "We knew the schedule was challenging, but we certainly didn't plan on losing three starters at this point in the season. Players have stepped up to the opportunity and they will have to continue to do so as we move into the conference season."
With just eight healthy players to start the PSAC East season, Hermansen has settled in on an eight-person rotation with everyone contributing every game.
Junior guards Alicia Espigh (McVeytown/Lewistown) and Clarissa Correll (Mansfield/Mansfield) have been the Mountaineers top two scorers throughout the non-conference season averaging 13.9 and 12.1 points per game respectively.
Espigh ranks 11th in the PSAC scoring and tops the conference in 3-point field goals with 36 on the season. Correll is 17th in the conference in scoring and fifth in assists (59). Senior Kelli Eastman (Wattsburg/Seneca) has responded to increased minutes with increased point production averaging 8.7 points per game over the past three contests. Junior Katie Akins (Elmira,NY/Southside) is averaging nine minutes per game.
Senior Jennette Meacham (Clairton/Mercyhurst North East) has played well of late in the post averaging 8.1 points and 6.8 rebounds per game. Junior Emily Akins (Elmira,NY/Southside) has been a steady performer at forward where she is averaging 4.7 points and 3.4 rebounds per game.
Sophomore Merissa Gaeta (Kirkwod,NY/Windsor) has moved into the starting lineup over the past three games and is averaging 4.7 points and 5.7 rebounds over that span. Freshman Tegan Atallah (Reading,MA/Reading Memorial) has shown increase confidence during the year and has 24 points and 17 rebounds on the season.
The Mountaineers will face a pair of difficult foes on the road in their first two conference games at Kutztown and Millersville on Saturday. Kutztown has six of ten home games this season while Millersville is 10-4 on the season.
Mansfield ends a four game road trip when the Mountaineers host Cheyney on Saturday, Jan. 26.